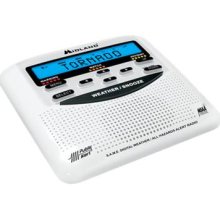 People can finally have a better chance of surviving severe weather by being alert with the Silent Call Communications new Weather Alert Kit (WALD-1).
(PRWEB) March 31, 2012
Every year as seasons change, people lose their lives to severe weather due to being unaware and not having time to get to safety. Silent Call Communications has a new Weather Alert Kit (WALD-1) that allows people to be alerted to a weather statement, watch or warning. The LCD readout on the weather radio identifies the specific alert, such as a tornado watch, etc. It is important to be aware of weather changes, as people's lives are at risk and everything could change within seconds. The Weather Alert Kit includes a Weather Alert Radio, a Weather Alert Transmitter, a Lamplighter Receiver(works with any household lamp), and a Bed Shaker to be alert while sleeping. This is a fantastic alerting system for anyone who wants to be aware of various weather conditions and safety. This could be a great gift of comfort for someone who lives alone, has children, seniors, people who are hard of hearing, deaf, or deaf/blind in the home.
The Weather Alert Transmitter connects to the Weather Alert Radio and when used with a dual connector, multiple alerting devices can be used at one time, including a strobe light or bed vibrator for alerting purposes. The Weather Alert Radio gets programmed by contacting the National Oceanic Atmospheric Association (NOAA) and obtaining codes for the area in which a person lives. The NOAA phone number and website will be included with the radio. These codes are easily programmed into the radio and then the radio is ready to provide current weather conditions. The Weather Alert Radio has battery backup, so if the power goes out, it will still function.
###
Silent Call Communications is a Waterford, Michigan based company that provides visual and tactile alerting devices to organizations, companies and individuals alike. Since 1985, the Silent Call Communications Corporation has taken a simple philosophy of personal communications by means of electronic devices and developed an exciting product line. These products have revolutionized the means by which people who are seniors, hard of hearing, deaf or deaf/blind may lead more convenient, safe and active lives. For more information about Silent Call Communications and products, visit http://www.silentcall.com or call (800) 572-5227 (Voice or TTY).