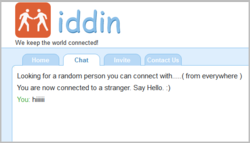 New York, NY (PRWEB) March 30, 2012
Stranger chat is one of the best trends noted today. This is the non-mainstream form of chat where people are not forced to disclose their personal information at all. Iddin, a random chat generator, operates on this premise. Iddin IM talk is very quick and easy to use, compared to other applications.
Iddin's latest release is all about a chat engine that is faster and can connect a user within few seconds. Many people love to engage in Iddin IM chat because of the connectivity that it offers. A user can chat with virtually anyone from different parts of the world.
Location filter is also another feature of Iddin. A user can select where the strangers will come from. A list of countries is provided in the Iddin homepage, but the user can choose the 'Anybody' option. The engine will now search for other users from all parts of the world.
People refer to Iddin as a dating application and another way to meet new friends. A specific study conducted by Iddin developers noted that the average chat time runs under two minutes. That is why all chatters are active in Iddin—they are always looking for the right person to chat with.
Disclosing information is still under the control of the chatter. He can opt to display his profile picture, or exchange Facebook information through the chat. Nevertheless, Iddin is all about relentless talk and chat, eliminating a majority of pleasantries along the way.
About Iddin
Iddin is a free web application that specializes in generating random chat with strangers. Users can choose the locations of the strangers, or they can have the engine to search the whole world. Random chat is encouraged to protect the identity of people and also to empower spontaneous connection that is fun and interesting. Users can visit http://www.iddin.com to discover its features.