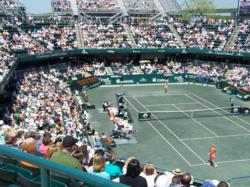 Charleston, South Carolina (PRWEB) March 30, 2012
The tents are up, the courts and grounds at the Family Circle Tennis Center are in prime condition and some of the world's top tennis stars are making their way to Charleston's island town for a week of competition. The Family Circle Cup, a WTA Premier Event, takes place March 31 - April 8 on Daniel Island. ESPN2 will broadcast coverage of the tournament starting on Thursday, April 5.
Celebrating its fortieth anniversary this year, the Family Circle Cup is one of the most prestigious events in women's professional tennis. Since 1973 it has helped catapult the careers of tennis greats like Tracy Austin, Martina Navratilova, Chris Evert, Steffi Graf, Jennifer Capriati and many others. Originally taking place at Sea Pines Plantation on Hilton Head Island, the tournament relocated to Daniel Island in 2001, where it has grown to become one of Charleston's top annual special events and helped the city earn the title of "America's Best Tennis Town" by the United States Tennis Association.
"The Family Circle Cup really helped put Charleston on the map as a tennis destination," said Julie Dombrowski, Director of Communications for the Daniel Island Company and Daniel Island Real Estate, which annually sponsors the event. "We're so proud to have this prestigious event take place right here in our backyard. Through the thousands of people coming here for the tournament, and the live coverage on television, it's introduced a lot of people to our island town."
Among the players scheduled to compete this year are Samantha Stosur, Venus Williams, Serena Williams, Marion Bartoli, Sabine Lisicki and Jelena Jankovic. They'll be competing for a $749,160 purse during the week-long event.
But the tournament goes well beyond serving up great tennis. All week long, the Grand Lawn is the place to be, with an open bar and live music. And this year, a very special event is planned to commemorate the tournament's 40th anniversary. "40 Love: A Night of Empowerment Celebrating 40 Years of the Family Circle Cup" takes place Saturday, April 7. It will include a reunion of the "Original 9" women who signed on to become the first players in what would become the number one professional sport for women. During the event, honorary coaches Billie Jean King and Virginia Wade will lead a star-studded World Team Tennis-style exhibition with former Family Circle Cup champions Martina Navratilova, Chris Evert, Tracy Austin, Martina Hingis and Rennae Stubbs. Tennis legend John McEnroe and American standout Aaron Krickstein will also participate.
"This commemoration is designed to celebrate our 40th year in professional tennis, and honor the incredible women who made it all possible with their courage and steadfast determination for equality," said Bob Moran, Tournament Director of the Family Circle Cup. "The Original 9 served as a catalyst for change in not only women's tennis, but helped shift our country's attitude toward equality as a whole."
For further information about the Family Circle Cup, and to purchase tickets, visit familycirclecup.com.