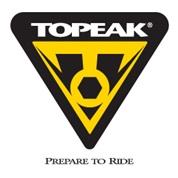 Topeak is the perfect solution for us to serve our customers with every style of bike rack.
Lake Forest, IL (PRWEB) March 30, 2012
While Bike Rack Shops has long been known for its selection of bike racks for cars, commercial bike racks, and garage bike racks, the addition of Topeak to its brand selection makes Bike Rack Shops the only online retailer to offer all four styles of bike racks to consumers. Topeak is the leading manufacturer of racks designed to be attached to bikes for carrying a trunk bag or basket.
According to the bike rack specialists, offering Topeak bike racks fits perfectly with the company's strategy to remain the top bike rack company on the Internet, "Because the term bike rack can refer to any one of four bike accessories, we came to realize that a significant amount of traffic to our site was actually looking for a rack to put on a bike and not necessarily a rack to carry a bike. Topeak is the perfect solution for us to serve our customers with every style of bike rack. We are proud to be the only company that can make that claim," remarked Alex Miller, President of Renaissance Retail, Bike Rack Shops' parent company.
Topeak racks for bikes feature quick loading technology, so putting a basket or an all-weather bike bag only requires cyclists to slide it into place until it clicks. Once cyclists arrive at their destination, the bag can come with them. The specialists at Bike Rack Shops analyzed several manufacturers before selecting Topeak. According to them, Topeak offers the most versatile bike bags and bike racks that can fit the widest variety of bicycles.
Bike Rack Shops was the Internet's first dedicated source for meeting the vehicle and storage rack needs of cyclists and has evolved into the Internet's leading source for bicycle and storage racks. Its mission is to provide outstanding service, the lowest allowable prices, and the widest selection of leading bike rack brands. Headquartered in Lake Forest, Illinois, Bike Rack Shops is a division of Renaissance Retail, the Internet's leading source for specialty consumer products.
Contact:
Timothy Benson
Renaissance Retail
847-932-4720 ext. 2704
Email: tim(at)bikerackshops(dot)com