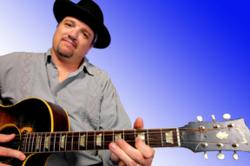 Santa Fe, New Mexico (PRWEB) March 30, 2012
Vanessie Santa Fe, a Santa Fe, New Mexico business that offers fine dining, lodging and nightly entertainment and a featured company on the SantaFe.com Business Directory, delivers the goods at 7:30 p.m., Saturday, March 31st when the Chris Dracup Trio hits the stage this weekend.
Legendary blues man Chris Dracup, a lifelong resident of New Mexico whom hales from the town of Taos, has been performing since the age of 16. Since the beginning of his musical career, he has been the lead guitarist and singer with several favorite New Mexico bands such as The Muttz, The Rattle Cats, The Chris Dracup Trio and The Chris Dracup Project. He works in a variety of musical genres including the blues, Delta slide, country blues and jazz. Dracup's songwriting has earned him a faithful fan base and garnered him both critical and popular acclaim.
Chris and the Chris Dracup Trio was a finalist in the 2002 New Mexico Music Showcase. Over the years, he has been a featured performer at several famous music festivals regionally including Thirsty Ear Festival, The Telluride Blues and Brews Festival and the Silver City Blues Festival. In 2004, Blue Cross Blue Shield of New Mexico featured Dracup in the company's television commercial ad campaign with the song "You've got the Blues". Dracup has also shared the stage with several popular tour acts over the years.
About Vanessie Santa Fe
Vanessie Santa Fe offers locals and visitors to Santa Fe a piano bar that seats more than 150, offering hosting for cocktail receptions, parties, plus nightly entertainment, a dining area that seats 100 guests for private parties, wedding receptions, rehearsal dinners, business dinners, and regular dining, and a lodge with 20 rooms in traditional Santa Fe style and contemporary style, with first class amenities and comfort. Vanessie Santa Fe is owned by native Oklahoma Dentist and entrepreneur Dr. Ron Bulard and is located at 427 W. Water St., Santa Fe, New Mexico.
Contact Information:
Hideko Amasaki - General Manager
Vanessie Santa Fe
http://www.vanessiesantafe.com
(505) 982-9966 (Media Inquiries only, please)
About SantaFe.com
SantaFe.com provides Santa Fe locals and visitors the most current interactive platform for events, music, arts, business, dining and lifestyle. SantaFe.com is a division of Hutton Broadcasting, located at 2502 C. Camino Entrada, Santa Fe, NM 87507
Contact Information:
Scott Hutton
SantaFe.com / Hutton Broadcasting
http://www.santafe.com
(505) 471-1067 (Media inquiries only, please)
# # #