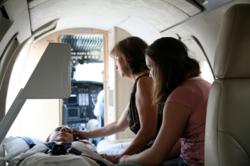 (PRWEB) March 31, 2012
Premier air ambulance flight company, Air Critical Care, announces their on-call air ambulance service that offers for medical physicians to fly with patients aboard medical air transports. Highly-qualified medical doctors are now on-call 24-7 for air ambulance transports flying both domestically in the USA and internationally. Recent demand for flight physicians has signalled the need for Air Critical Care to provide medical doctors on transports for patients that may be in a critical care state, need specialized attention while traveling by air, or who are in need of a doctor for peace of mind for the family.
Adding the on-call physician service has allowed Air Critical Care to provide more fixed wing air ambulance flights for patients who need the extra care while traveling. Air Critical Care's Lead Medical Director, Dr. Blane Crandall, has recently performed several air ambulance trips from the Caribbean and Florida, where he was called on to provide specialized medical attention for critical care patients. The on-call service provides convenience to any patient who needs immediate medical transportation to another city, state or country.
Dr. Crandall, who is a specialist in internal medicine and also heads Air Critical Care's Obstetric Emergency Transport Unit, supervises the medical staff of Registered Nurses (RN), Critical Care Paramedics (CCEMT-P), and Registered Respiratory Therapists (RRT) needed to transport our patients safely.
Air Critical Care has physicians that specialize in emergency medicine, pediatric care, obstetric and critical care patients. As the leader in medical transportation and air ambulance services, Air Critical Care offers international air ambulance flight services 24/7 in "Every City, Every State & Every Country Worldwide." In addition to air ambulance services, Air Critical Care also provides medical escorts, commercial stretcher services on international flights and long distance ground medical transports. For more information about Air Critical Care LLC, visit aircriticalcare.com/or call toll free at 800-550-0674.