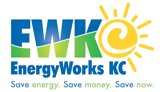 "We're pleased to offer a financing program in Kansas City that helps make investing in energy efficient improvements very easy and affordable." — Jenifer Degen, contract manager for the EWKC program
Kansas City, MO (PRWEB) March 30, 2012
EnergyWorks KC (EWKC) provides financing incentives to assist home and business owners as they implement energy efficiency improvements. These incentives include rebates, an interest rate subsidy, and revolving loan funds with super low interest rates.
"Making your home or business more energy and water efficient is a smart choice," said Jenifer Degen, contract manager for the EWKC program. "We're pleased to offer a financing program in Kansas City that helps make investing in energy efficient improvements very easy and affordable."
Homeowners can receive a maximum rebate of $1,000 from EWKC, which can be combined with as much as $1,200 from the local utilities while resources are available. Business owners can receive a maximum rebate of $3,000 from EWKC, which also can be coupled with other resources.
EWKC provides participating home and business owners with individualized energy efficiency upgrade recommendations based on an energy analysis. Program participants then move forward in selecting local, certified professionals to implement the cost-effective upgrades. Customers can use the financing incentives to make such improvements more affordable. Although improvements vary depending on the property, many have included additional insulation, air sealing, duct sealing, heating and cooling system upgrades and lighting improvements.
Interested home and business owners can learn more by calling 816.531.SAVE or visiting http://www.EnergyWorksKC.org.
"We're excited to offer these great incentives to property owners as they look to conserve both energy and water and save money all at the same time," Degen said. "EWKC is a great resource for homeowners and business owners, because we help them through the process every step of the way."
EWKC has launched a citywide campaign to share information with home and business owners about this exclusive energy savings program that includes billboard advertisements, bus boards, ads across English and Spanish magazines, radio spots, print newsletters and more.
About EWKC: EnergyWorks KC is funded by the American Recovery and Reinvestment Act (ARRA) of 2009, an Energy Efficiency and Conservation Block Grant provided by the Department of Energy. Its goal is to complete 2,000 conversions by April 2013.