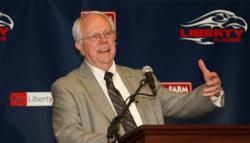 Lynchburg, VA (PRWEB) March 31, 2012
Liberty Athletics Hall of Fame member and former "Voice of the Flames" Jerry Edwards will be joining another group of distinguished honorees in May, when he is inducted into the Big South Conference Hall of Fame.
Joining Edwards in the Big South's 2012 Hall of Fame class will be former Winthrop baseball player Jason Colson, former Winthrop men's basketball coach Gregg Marshall, former UNC Greensboro women's golfer Becky Morgan and former Coastal Carolina cross country/track athlete Jolene Williams.
Edwards will become the Big South Hall of Fame's first media inductee and the first non-student-athlete, coach, athletics director or school president/chancellor included in any of the conference's nine different hall of fame classes. A total of 49 individuals have been selected to join the Big South Hall of Fame since it was first formed in 2003.
Edwards will give Liberty University Athletics a total of four representatives in the Big South Hall of Fame. In May, Edwards will join former standout student-athletes Ryan Werner (track & field/1992-96/Class of 2007), Peter Aluma (men's basketball/1994-97/Class of 2008) and Elena Kisseleva (women's basketball/1996-2000/Class of 2011) as previous Liberty Athletics honorees in the Big South's Hall of Fame.
This is the second Hall of Fame organization to honor Edwards' three-decade broadcasting career. Edwards was inducted in the Liberty Athletics Hall of Fame in September 2011, as he was part of the group's third Hall of Fame class.
Broadcasting his first Flames football game just after the opening of the 1981 season, Edwards went on to serve as the radio "Voice of the Flames" for 29 years. He broadcasted Liberty football, men's basketball and baseball games during his three decades behind the microphone.
Edwards aired more than 300 football and 800 men's basketball broadcasts, having traveled as far as Alaska, Hawaii and Puerto Rico to cover Liberty Athletics programs. During his time calling the action, he only missed one football game and just a handful of men's basketball games.
After moving to Lynchburg, Va., in 1979 to attend the Liberty Bible Institute, Edwards broadcasted his first game in the radio booth on the Flames Sports Network on Sept. 12, 1981, from Salisbury, N.C., for Liberty's football game at Catawba. He was on hand to report all the action of some of the most memorable athletics events in program history, including football's first FBS victory over Eastern Michigan, 25-24, in Ypsilanti, Mich., in 1989 and Liberty's two men's basketball NCAA Tournament appearances in 1994 and 2004.
Edwards still serves as the general manager for WRVL and the Victory Radio Network and he hosts "The Morning Full of Music" on the station. The radio broadcasting booth inside the Williams Stadium Tower is named in his honor.
Edwards, along with the other four members of the 2012 Big South Hall of Fame class, will officially be enshrined at an induction ceremony on May 31, 2012, during a special ceremony as part of the conference's annual spring meetings in Hilton Head, S.C.
Liberty University, located in Lynchburg, Va., is the world's largest Christian university. More than 12,000 students attend classes on its 6,500-acre residential campus and more than 70,000 study in its thriving online education program.