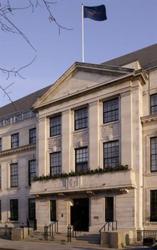 At the Town Hall Hotel, a room that can typically be had for GBP 249 is charging GBP 880 during the Games.
(PRWEB UK) 31 March 2012
2012 Summer Olympic goers who demand posh accommodations can still find available rooms at London's luxury hotels during the July 25–August 12 Games timeframe. However, as other hotels in and around the British capital are doing, they are increasing their rates significantly, a new survey from Luxury-Hotels.com has found.
For example, for the period spanning August 2nd to August 5th (Thursday to Sunday), 20 of central London's 70 5-star hotels are still posting vacancies. On average, they are hiking the price of those available rooms by 62% over regular rates.
However, huge cost differences can be seen from one luxury hotel to another. For example, the Meridian Piccadilly, located on the border of Mayfair and St. James, has double rooms listed at GBP 538, which is only 6% higher than its usual rate of GBP 503.
It's a completely different story close to the Olympic Stadium at the Town Hall Hotel, however. There, in general, a room that can typically be had for GBP 249 is now charging GBP 880 during the Games. That figure equates to a 253% price elevation.
Travelers hoping to stay at one of the more prestigious hotels, such as the Dorchester, the Connaught or the Lanesborough, will be disappointed. All rooms at these establishments are completely booked solid for the full duration of the Games.
For more information about this survey, visit http://www.luxury-hotels.com/press/olympics-2012.html