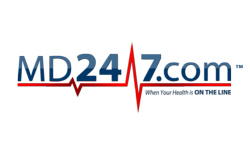 MD247 warns against scams.
St. Petersburg, FL (PRWEB) March 30, 2012
Telemedicine provider MD247.COM released a new blog article warning program members, as well as non-members suffering upper respiratory infections to be wary of non-MD247.COM doctors offering antibiotic prescriptions when none are needed. More about the inappropriate prescription of antibiotics, and the emotional scam to which it equates, can be located on the MD247 blog. MD247 wants to make certain that all people suffering through a frightening illness like an upper respiratory infection have the appropriate amount of knowledge with which to arm themselves, and never feel like a doctor has lead them into a quick fix or a ripoff.
MD247.COM works every day to give doctors and patients the ability to avoid the psychological scam of treating upper respiratory infections with antibiotics that are not needed. Patients within the MD247.COM program have an opportunity to speak to a doctor via a twenty-four hour Talk to a Doctor Call Line, all day/every day and the calls take as long as they take. MD247.COM doctors are encouraged to take the appropriate time to treat patients, all with the goal in mind of making sure that nobody feels like they are just another number in a waiting room. MD247.COM believes that the best quality of care can only be found in an ethically operating healthcare organization.
MD247 is a twenty-four Talk to a Doctor Call Line, and discounted healthcare resource, based in the greater Tampa Bay area. All MD247 program members have unlimited twenty-four hour access to a nationwide medical support team, with just a call being made to the MD247 Talk to a Nurse Call Line. MD247 has a virtual platoon of registered nurses; board certified doctors and participating healthcare providers in each and every state. The MD247 medical professionals are all capable of handling all non-emergency situations. You can learn more about the telemedicine provider by visiting their website.