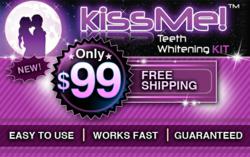 Deals promoted on these sites offer deep discounts of 60-80% off list prices
(PRWEB) March 31, 2012
The health and beauty division of New Line Products LLC, kissMe! Teeth Whitening, has been selected by major daily deal sites as an attractive addition to their merchant line-up. New Line penetrated the daily deal market last year offering their high-tech advanced home teeth whitening kit. Its popularity caught the attention of the larger deal sites, such as Groupon, Eversave, Daily Candy and others. Deals promoted on these sites offer deep discounts of 60-80% off list prices. This allows merchants such as kissMe! Teeth Whitening to grow a database of customers without having to finance advertising promotions. Profits are shared between the merchant and deal site.
kissMe! Teeth Whitening's success may be due in part to its development of an advanced high-tech whitening kit. "The most striking feature of the new kit is a state-of-the-art mouth insert that eliminates the cumbersome preparation of cheaper conventional inserts," said Sarah Corrado, Director of Marketing at kissMe! These inserts (or mouth trays) are used to bring the teeth whitening agent into contact with the teeth surfaces being whitened. Traditional inserts require a lengthy and hazardous procedure. This includes immersing the insert in very hot water to form a full mouth impression. The break-through insert from kissMe! requires no preparation and is ready to use as is. Made of soft FDA compliant food-grade silicone, it can form a perfect dental mold in seconds in a single easy step. Whitening gel is then immediately inserted into each tooth impression in the mold. "This is hands down the best kit I have seen! The mold is awesome … I have not seen that before," commented Jeffrey Stewart from Teambuy.ca, an online daily deal site.
A small, portable teeth whitening light that corresponds to dental office blue light technology is included with the kit. By adding energy to the whitening process, the blue light shortens treatment time. kissMe! has also created a whitening formula ideally balanced for obtaining maximum results with minimal risk of discomfort. In addition, a proprietary ingredient added to the formula enhances the effect of the blue light, further reducing treatment time. Whiter teeth are noticeable with the first 20 minute treatment and dramatic results are possible when all six treatments included in the kit are applied.
New Line's teeth whitening products are also unique in that they are all made in the USA and Kosher Certified assuring product purity and manufacturing integrity.
New Line Products LLC has been involved in the teeth whitening industry since 2007 when it operated a mall kiosk offering low-cost whitening treatments for a fraction of dental office prices. The company later opened a teeth whitening salon featuring its high-tech low cost 20 minute treatments. New Line has since moved into the retail market which caters to home-use teeth whitening products.