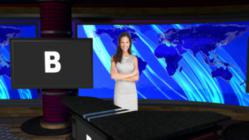 These new features are going to change virtual set production techniques across the industry
Las Vegas, NV (PRWEB) March 31, 2012
Virtualsetworks, the leading provider of virtual set studios offering an extensive library of pre-existing sets and custom-designed virtual sets, will be announcing expanded software capabilities through new Power Sets offering at the 2012 NAB Show in April. New functionality will allow users to move virtual set components separately and turn layers on and off for expanded customization.
"We are constantly working to improve our products to fit our customers' needs, and we're thrilled to be enabling expanded capabilities within the Virtualsetworks product line," said Eric Pratt, CEO of Virtualsetworks. "Customers will now be able to add or remove elements within our virtual sets, a capability that will allow more flexibility during the post-production process."
Virtualsetworks virtual sets are designed to be easy to use yet powerful, offering multiple layers of content for each virtual angle allowing the user to composite their talent seamlessly into the virtual set environment in a variety of software and hardware. Virtualsetworks products are available as still images and animated sequences in standard definition, high definition, stereoscopic, 3D scenes for Newtek's Lightwave™ and Autodesk 3D Studio Max™, and NewTek's Tricaster Pro, Tricaster Studio, Tricaster Broadcast, Tricaster XD300, Tricaster XD450, and Tricaster XD850.
Virtualsetworks will be unveiling the expanded capabilities at the NAB Show in April 2012. Virtualsetworks virtual sets can be purchased individually or in a pack of 20 at http://www.virtualsetworks.com. The company also offers hundreds of other virtual set backgrounds from their Studio Sets™ and AnimSets™ lines offering budgets for all ranges of production.
Watch our virtual sets in action here:
[http://www.youtube.com/user/Virtualsetworks/videos
Or download a trial virtual set here:
http://www.virtualsetworks.com/Demo.aspx
About Virtualsetworks
Virtualsetworks is the leading provider of virtual set studios offering an extensive library of pre-existing sets and custom-designed virtual sets. We offer hundreds of virtual set options in Standard Definition, High Definition, 4K, Tricaster SD, Tricaster XD, 3D Studio MAX and Lightwave 3D. Our sets work with all programs designed to handle video and chromakey, from basic editing programs to real-time virtual set systems. Our sister company intensiKey also offers 3D virtual set software, which is now in beta testing. intensiKey's post-production virtual set software promises to offer true 3D virtual set camera moves without the complexity required by other programs. For more information, visit http://www.virtualsetworks.com.