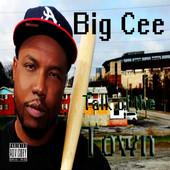 Miami, FL (PRWEB) March 31, 2012
Rap artist Cee Nabes recently released his mixtape "Talk Of Da Town." Coast 2 Coast Mixtapes presents the project, which is now available for free download. "Talk Of Da Town" is five tracks from the full project, which is available for purchase on iTunes.
Cee Nabes first started rapping when he was about 12 years old after listening to Kris Kross. He was at first just doing it for fun, but soon found that he had a natural gift for rhyming, and got more serious about his craft when he was 16. He sent his first demo to So So Def with no hooks on three tracks, just him spitting 24 to 36 bars straight.
Unfortunately, as a youngster, Cee Nabes got into some trouble and ended up with a juvenile record, winding up facing some time at a detention center. One of the guards told the judge that Cee Nabes would be a good candidate for the military, and he was allowed to continue with probation until he joined the army at 18. While in the army, he met a fellow soldier who had a studio, and soon was learning how to make beats and start his own record label. Once he separated from the army and got a contracting job overseas, Cee Nabes started producing more beats. A detour into Gospel rap with a friend didn't work out, though Cee Nabes has a strong faith in God, and he returned back to the style of music he knew.
Now pursuing his music career independently, Cee Nabes likes to create concept with the projects he creates. His album and mixtape artwork always have props symbolizing the meaning behind the work. "Talk Of Da Town" basically means that he's good at what he does, and anywhere he's at, the people need to come see him swing that bat (hear him on the mic), because he will always knock it out of the park.
"Talk Of Da Town" is available for free streaming and download at http://coast2coastmixtapes.com/mixtapes/mixtapedetail.aspx/big-ceenabes-talk-of-da-town-mixtape