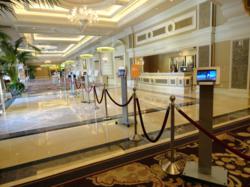 With an event this large and so much to do, these iPad kiosks may not have made it to the floor much less been so appealing as they were with [ArmorActive] in charge.
Las Vegas, NV (PRWEB) March 31, 2012
An iPad kiosk rental program, provided by ArmorActive Inc., played a big part in making GAP's 2012 Field Leadership conference a huge success and has once again proven the value of the iPad for not only enhancing the consumer retail experience, but also adding value to company operations.
During the three day conference which took place from March 21 - 23, 2012, ArmorActive specialists setup and fully managed the iPad kiosks, moving them throughout the Bellagio event rooms and formatting content to compliment activities. From registration to the final day of the conference, 12 kiosks were staged to make a clear impact on event participants. The iPads provided everything from event schedule information to entertaining video content displays.
The project began when the Director of Field Communications for GAP Inc. contacted ArmorActive with four objectives for leveraging the iPad during the conference, which included:
1. Informing participants of new resources at their disposal.
2. Teaching GMs about newly formed programs.
3. Encouraging internal interaction and team collaboration through various applications, both during and after the conference.
4. Introducing real time store applications to be used by the GMs.
During the event the ArmorActive team collaborated with GAP on additional ideas to leverage the use of the iPads, including a power point presentation covering over 40 years of brand history as well as providing a looped blast-from-the-past montage video of several memorable GAP TV commercials. Video footage of the actual event itself was also displayed on the iPads throughout the conference's duration.
Speaking on the topic of ArmorActive's iPad kiosk rental program and management capabilities, Gavin Thomson from GAP's internal communication department had this to say: "With an event this large and so much to do, these iPad kiosks may not have made it to the floor much less been so appealing as they were with [ArmorActive] in charge."
Each kiosk consisted of an iPad encased in ArmorActive's Evolve enclosure, which featured custom GAP branded faceplates, designed specifically to compliment the FLC event. The iPad's themselves ran on several apps throughout the event including ArmorActive's ActiveKiosk closed browser app and ActiveManage; ArmorActive's Mobile Device Management (MDM) product. The MDM was used to remotely install the ActiveKiosk application on all devices as well as monitor battery levels and storage used for each individual device.
Power for the iPad's were maintained using battery backups which fit inside ArmorActive's Sentinel kiosk stand. Caster wheels enabled full mobility for the kiosks throughout the event itself as well as for safe keeping at night. In the evening ArmorActive was able to roll the iPad kiosks into a secure location for charging, cleaning and program updates in order to be ready for their quick dispatch early again the next morning.
"An advantage the client saw with our fully managed iPad kiosk rental program was that we were able to come in, do what we do best and react in a short amount of time to not only give them what they wanted, but also provide guidance on what they had not thought of yet. This process made the deployment of the iPad throughout the event a total success."--Ken Martin, ArmorActive Event Project Manager
The 2012 GAP FLC event was created and managed by the Internal Communications Group at GAP and this year's events marked the first time that both the GAP Inc. and GAP Outlet brands joined forces for this type of conference. Attendees of the conference included a vast majority of people from many leadership positions within the company.
For more information on ArmorActive, and their tablet kiosk rental programs, please visit ArmorActive.com.