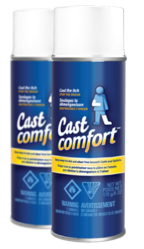 Put away the knitting needle and just spray a little Cast Comfort under your Cast or Splint to feel fast and lasting relief.
Toronto, Ontario (PRWEB) March 31, 2012
If you're wearing a cast, you are probably already aware of the discomfort that can occur under the cast - the itch, the odour - it can be an ongoing problem. In many cases it's nearly always impossible to reach the itchy area under the cast, and the odour that can develop under a cast after it has been on for a while can be very bothersome.
Until now you had to "Just deal with it!"
A new solution, from Canadian distributor Bescot Healthcare Canada Inc., is now available in Canada called Cast Comfort. Cast Comfort is a unique aerosol spray that can keep casted patients happy!
Cast Comfort may be applied directly to the skin under plaster or fiberglass casts or splints.
Cast Comfort is a cooling aerosol spray of specially formulated ingredients to boost comfort: to cool the itch, soothes the skin, control moisture, and a light fragrance absorb and eliminate awkward odour.
Cast Comfort will be available for Canadians to purchase on-line in April at http://www.CastComfort.ca