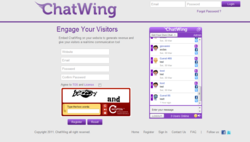 Chicago, IL (PRWEB) March 31, 2012
While it is true that there many topics that a blogger can talk about, reaching out to the public is another thing to deal with. There are thousands of blogs out there, and competition is really tough. The developers of the Chatwing chat widget have realized this dilemma. This is why they optimized Chatwing to allow users engage in spontaneous website chat.
Website chat is useful, especially for people who are always looking for fresh content. Chatwing's sole purpose is to provide another stream of communication for the visitors of a blog. In this manner, the blog will gain better ranking and hits.
Company blogs also benefit a lot from Chatwing. IM talk has been one of the important parts of the cyber culture and Chatwing definitely improves this niche. From the Chatwing chat box, a visitor can log in using his Facebook or Twitter account. This allows easy exchange of personal information. For company bloggers, Chatwing is an extension of customer service.
According to a short behavioural study, visitors who used Chatwing love to talk about personal relationships and dating. Second to that are topics related to blogging. Bloggers also use Chatwing as a way to communicate with their visitors.
To install Chatwing, the user must register his blog's domain name. Next, he can now set up an official account that serves as his dashboard. Afterwards, he can now customize the appearance of his widget. This is another easy step. The user can adjust the sliders to determine the proper height and width. There is also another slider for color adjustment. The widget can also be renamed to suit the theme of the blog and make the widget more enticing.
All types of blogs can truly benefit from Chatwing because it is versatile and has a function with better global each. Bloggers, especially those ones who are just new in the blogosphere, can get their free widgets at the Chatwing homepage. Inquiries can also be posted through the embedded chat box.
About Chatwing.com
Chatwing.com has developed live chat software for websites and blogs. The Chatwing.com website offers users the ability to signup and create a customizable live chat feature in 1 minute or less. Users have the ability to customize the size, color, and fonts of the chat product. The ability to chat via social media accounts such as Facebook and Twitter enable Chatwing to offer a personal and unique real-time experience to all sites. Chatwing is 100% free web software.
http://www.chatwing.com