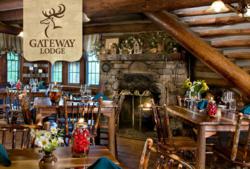 "Ted Parsons established a loyal customer base that we want to take good care of," said Gateway Lodge owner Deb Adams.
Cooksburg, PA (PRWEB) March 31, 2012
This Easter, Peter Cottontail will be paying a personal visit to Black Bear Cabins- Gateway Lodge's newest additions in Cook Forest State Park. The Easter Bunny will deliver personalized invitations to children at the cabins for Cook Forest's Annual Easter Egg Hunt, scheduled for 2pm Sunday April 8.
Children under 12 will have a chance to find prize winning eggs during this free and public event. Mr. Cottontail will also be a guest at the annual Gateway Lodge Easter buffet, where all kids under 10 staying in Black Bear Cabins or Gateway Lodge can eat free. Adults can enjoy the sumptuous meal for $19.95 each.
The Black Bear Cabins are located ¼ of a mile from Gateway Lodge on Route 36. The custom built cabins offer 2 and 3 bedroom plans, complete with log burning fireplaces, large decks, outdoor campfire and picnic areas, and spectacular yet secluded views. The property is situated among 27 miles of well-maintained and gorgeous hiking trails.
Check-in to Black Bear is now handled by Gateway Lodge's reception desk, which is open from
8 a.m. to 9 p.m. daily. The registration process has been updated to allow credit card transactions for convenience. Black Bear guests now have access to Gateway's specialty services, such as the wildly popular eco-tour workshops, special tasting events, winter carriage rides and requests such as flower bouquets in cabins.
"Ted Parsons established a loyal customer base that we want to take good care of," said Gateway Lodge owner Deb Adams. "While some processes will inevitably change, we will make sure that
Black Bear's long-standing guests still receive that warm welcome and attention that they are used to."
The Gateway Lodge and Black Bear Cabins are privately owned by Deb Adams, who believes deeply in contributing to her community. The Lodge and Cabins have partnered with multiple area businesses to offer educational workshops on topics such as nature, art, nutrition and wellness.
A Wine Spectator award winner, the Gateway Restaurant is a fine dining destination that sources much of its fare from local farmers. The Lodge and Cabins also participates in the PA Wilds Artisan Trail by exhibiting works from local artists.