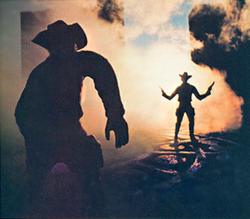 1974 I shot 2 toy cowboys on a manhole cover. It ran in Camera 35 Magazine
Miami, FL (PRWEB) March 31, 2012
Now for the first time in over 39 years, he is selling his prints from his ground breaking art ideas that have influenced a scores of art photographers.
In the early 1970's to the early 1980's, Robert Funk was widely published in photography magazines such as Camera 35, Photo (France), Popular Photography, Color Photo Journal ( Germany ), Peterson's Photographic and CTI record album covers and many others. Señor Blues, Urbie Green.
His work incorporates the use of his own paintings, toys, cutouts, dinosaurs and plastic thingies. He brings them out to locations in New York, Peru, Europe and Morocco and shoots them with a wide angle lens so they look integrated into landscape and real life situations.
"The effects can be uncanny, surreal, funny and even kitschy with the use of funky pin up girls from the 50's juxtaposed against real people. I try not to take easy photographs. That's easy. I wait for the right light and moments and seek out roof tops on Manhattan skyscrapers to get unexpected angles. In some cases, I will place a toy car in the middle of a busy street and lie on my stomach with a wide angle lens and shoot the toy car in such a way that a first glance to the viewer, it looks like a real car driving on the street. You have to love the taste of asphalt to do this type of work, states Funk."
Most prints at the online Saatchi Gallery are between $3000 and $4000 dollars. http://www.saatchionline.com/robertfunk
More photos will be added in the near future or go to Robertfunkart.com.
Robert Funk has been an artist and photographer for 41 years.
After his decade long stint of being an art photographer, he tried his hand at advertising.
Foote Cone Belding and FCB/ LKP New York. Art Director
He did print and TV for blue chip clients ATT, Citibank, Colgate Palmolive, Clairol and a toe tapping Pepsi commercial featuring Gloria Estafan and the Miami Sound Machine with their signature song Conga. Choreography was by Kenny Ortega.
1990 to Present Funk is Internet Entrepreneur and Social Network Pioneer
Robert Funk is also an art collector (Rouault, Feininger, Derain, Luce, Laurencin, Lebasque, Kisling, Delvaux, Fini, Cabanel, Romney, Raeburn, Hoppner, Orpen, Pousette-Dart, Nevelson, Francis, Kuhn, Marsh, Calder, Penn, etc.)
For more information please call (1-305-857-0521) or log onto to his website for more photos http://www.robertfunkart.com