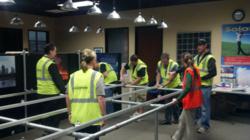 [Kelso] can almost never be caught without a calculator in her pocket.
Murrieta, CA (PRWEB) March 31, 2012
When hired to lead the training team at Ambassador Energy, Kelso was already highly-qualified with one North American Board of Certified Energy Practitioners [NABCEP] certificates. Now, after earning her second, she became one of only a handful of women with two.
Catherine Kelso cut her teeth in the solar industry in 2005, working in both California and Oregon. She first became a NABCEP Certified PV Installer in 2010, and this month earned the other highly-prized credential, NABCEP PV Technical Sales professional.
Kelso's job at ISPQ-accredited Ambassador Energy is to lead the training program, crafting new solar PV courses, teaching the five-day course for the NABCEP Entry Level exam, teaching preparation classes for NABCEP exams, guest-speaking at colleges, training electrical, roofing and building contractors, and finding new ways to raise the bar on solar PV education and installation. She directs all of the course activity at Ambassador Energy College.
"The solar industry is full of people jumping in and trying to quickly learn it," Kelso said. "But, it takes quite a bit of education to become an expert, especially in a business that is constantly evolving. I'm really happy to be one of a few women in the industry with my credentials, but I am even happier to be a part of driving quality to an industry which can easily fall prey to mass entry of unqualified installers."
"For me," she continued, "NABCEP is a big part of quality control. It's the certificate that the US recognizes and one you can hold in your hand. But the real work is continuing to grow through constant education and experience. You can't just get certified and forget about it. We have a responsibility to our clients to continue to hone our skills in the field and through educational programs like NABCEP, whose Continuing Education [CE] credits are mandatory. While those CE credits are always a pain, I am happy that the benchmark is high. The only way the solar industry will stay quality-driven is with programs like NABCEP."
Also dual NABCEP-credentialed, Ambassador Energy CEO Steve Fulgham said, "We are very proud of Catherine. She is an integral part of our culture of training and education. She lives and breathes it. We laugh because she can almost never be caught without a calculator in her pocket."
About Ambassador Energy
Ambassador Energy [AE] has a three-pronged business model, including Ambassador Energy College Solar Training, the Ambassador Energy Agency Program and Ambassador Energy, an EPC contractor. On staff are NABCEP Certified PV Installers, NABCEP Certified PV Technical Sales professionals [Fulgham/Kelso] and multiple NABCEP EL graduates. AE Agencies are nationwide. Ambassador Energy EPC installs PV throughout California.
See us on Facebook.