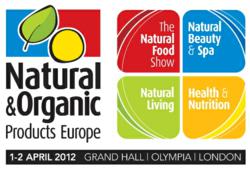 London, UK (PRWEB) March 31, 2012
Visitors to Natural & Organic Products Europe 2012 at London's Olympia this weekend will be spoilt for choice when it comes to sourcing an exclusive array of the best natural, organic, Fairtrade, free-from and eco-friendly products, with news that all exhibition space has now entirely sold out. Taking place on Sunday 1 April and Monday 2 April, as Europe's leading annual trade show for the natural products, health food and organic sectors it's poised to connect over 7,500 professional trade buyers with 600 exhibitors from all around the world.
Reflecting the increased presence of new natural and organic companies for 2012 – which now totals around a third of all confirmed exhibitors – many of the last remaining stands at the show were all recently booked by newcomers; including organic meat and dairy producer Laverstoke Park Farm; shea butter skin care supplier Monshea; beauty distributor Kent Cosmetics; drink importers Thirst Quenchers; Indian Snack manufacturer Cofresh; British healthcare company Stanningley Pharma; Irish functional foods supplier Aveena Phytotherapy; and Serbian Natural Foods, UK distributor of Foodland's natural fruit juices, preserves and spreads.
Many returning exhibitors have also announced a host of new product launches across all categories – including natural and organic food and drink, special diet, natural beauty & spa, natural living & home, and VMS – which will be introduced to UK and European retail market at the show. These include Pukka Herbs; The Redwood Wholefood Company; Natracare – Bodywise UK; Urtekram; Igennus; Earth Friendly Products; Nature's Path Foods; UAS Laboratories; Nutri; Essential Trading Co-operative; Dr. Bronner's Magic Soaps; Sci-MX Nutrition; Quantum Nutrition Labs; Kara Dairy Free; UnBEElievable Health; NatOrigin; Amy's Kitchen; Protexin; Natur Boutique; teapigs; Primera Technology; Bentley Organic; Natural Balance Foods; Eterno Naturals; Pravera; Bio-D; organic and holistic pet food specialist Lily's Kitchen; and many more.
More show firsts include the introduction of two new show sections – Health & Nutrition and Natural Living, which join The Natural Food Show and the Natural Beauty & Spa area. Whilst recent additions to the international pavilions line-up include Indonesia and Australia (with exhibitors Cheeki Bottles, Jasmin Skincare, Natural Health Matters, Nutradry, and The Jojoba Company), joining Austria, the USA, France, Latvia, Organics Brasil, the Italian Food Village, Demeter, and the new Vegan Pavilion (hosted by the Vegan Society). Returning UK pavilions include the HFMA (with exhibitors Comvita UK, Heath & Heather, Anyone 4 Tea, Betteryou, Solaray Food Supplements & Aubrey Organics); the Organic Trade Board (OTB); FoodLovers Approved; West Country Food & Drink; and the Soil Association Organic Marketplace.
Lively kitchen demonstrations and expert-led seminars in the Keynote Theatre and Natural Beauty & Spa Theatre (sponsored by Kinetic Natural Products Distributor & Dr. Bronner's Magic Soaps) will run alongside the central exhibition on both days of the show. Opening day highlights include 'The High Street Fights Back' – a special panel discussion on the future of independent retailing, plus sessions from leading nutritionist Patrick Holford and medical health journalist Jerome Burne; Sebastian Pole (Pukka Herbs); raw food guru Shazzie; Jay Pindolia (The Vegetarian Society's Cordon Vert Chef Of The Future 2011); Dr Marilyn Glenville; and Green & Black's , who'll be taking an informative look back at its own company history from bean to bar in 'Green & Black's – The story and the sourcing' at 4pm in the London Room.
Those visitors unable to attend on Sunday will be sure to find plenty to keep them busy at the show on the Monday. Monday's London Room highlights include a session on maximising brand awareness hosted by Pegasus PR (12-1pm – 'Look who's talking? Successfully engaging consumers in an increasingly regulated and competitive market'). Plus, there's also a must-attend seminar on the organic industry's latest hot topic – 'New EU-US Organic Trade Arrangement: Export Opportunities' (2-3pm), hosted by Lee Holdstock, trade relations manager at Soil Association Certification and Amarjit Sahota, president of Organic Monitor. Until now, there has been very little trade between the US and EU organic markets because of differences between USDA and EU organic standards. This session will take a detailed look at the new equivalency arrangement between the US and the EU and what it means to European/American organic enterprises.
Commenting on this recent development, Amarjit Sahota says: "Industry analysts Organic Monitor believe the new trade arrangement will have a significant impact on global trade of organic food and drink. Until now, organic food exports have come into these two regions from producers across the world, however there has been minimal inter-trade between Europe and North America. The agreement is bringing the global organic market closer together, and is a possible prelude to a single standard for organic products."
Monday's packed-programme of seminars and demonstrations will also include sessions from Helen Browning OBE (chief executive, Soil Association); Tim Bouget (co-founder of ODE, Sustainable Restaurant Of The Year); Jason Church (Coeliac UK's Gluten Free Chef Of The Year 2011); Susan Ma (founder of Tropic Skincare and star of the BBC's The Apprentice); Sebastian Parsons (Dr Hauschka); and leading eco-chef Barny Haughton.
For the full seminar and Natural Food Kitchen programme, please visit http://www.naturalproducts.co.uk/health-nutrition-and-natural-living/visiting/seminars. The show's website also includes details of this year's New Product Showcase entries and the 2012 Exhibitor List.
Natural & Organic Products Europe on 1-2 April 2012 is free to attend for pre-registered trade visitors and relevant press representatives only. To register for a visitor pass, please visit http://www.naturalproducts.co.uk (and quote priority code NPE12050 when prompted). Please note, free advance registration closes on Saturday 31 March at 9.30pm (GMT) and entry costs £20 on the day.
Members of relevant trade and consumer media can reserve press passes to Natural & Organic Products Europe by contacting Emma-Louise Jones at ejones(at)divcom(dot)co(dot)uk before 5pm (GMT) on 31 March 2012 (please note, press passes are not available to advertising, marketing or PR representatives and additional details may be requested to verify journalistic activity before a press pass is issued).
###
Media enquiries & press pass requests to:
Emma-Louise Jones, PR Manager
t: +44 (0)1273 645134, ejones(at)divcom(dot)co(dot)uk
http://www.twitter.com/DiversifiedUK
http://www.naturalproducts.co.uk
http://twitter.com/NatProductsShow
http://www.facebook.com/pages/Natural-Organic-Products-Europe/100622126677939
Notes to Editors:

Natural & Organic Products Europe is the UK's biggest trade show for the natural products, health food and organic sectors. It is the key event of the year for independent health store retailers, wholesalers and distributors, supermarket and multiple buyers, and specialist and organic shop owners looking to source the very best in natural, organic, biodynamic, fair trade, artisan and sustainable products.
VISITOR INFORMATION:
Admission: Free to all trade visitors (please note, members of the public are not permitted and visitors may be asked to provide proof of their trade status on entry)
Location: The Grand Hall Olympia, Kensington, London W14 8UX
Opening hours: Sunday 1 April 9.30–17.30 (last entry 16.30) & Monday 2 April 9.30–17.00 (last entry 16.30)
Diversified Business Communications (UK) Ltd (Diversified UK) is a fast growing event organising and publishing company based in Brighton. Diversified UK publishes Natural Products and the Natural Beauty Yearbook. In addition to Natural & Organic Products Europe, the company also organises camexpo – the UK's leading event for complementary and alternative healthcare; lunch! – the UK's premier out of home food and drinks trade event; office*; office INTERIORS; The Service Desk & IT Support Show; and, new for 2012, Natural Products Scandinavia. (http://www.divcom.co.uk)
Diversified UK is part of Diversified Business Communications, a leading international media company with a successful portfolio of sector leading exhibition, conferences, publications and websites.