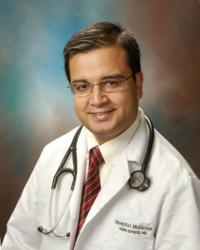 Omaha, NE (PRWEB) March 31, 2012
Nabin Sapkota, MD, author of "Symptoms and Diagnosis" book project, establishes a working relationship with the leaders of patient empowerment movement and writes his first guest article about how empowered patients can understand and participate in their own health care.
Nabin Sapkota, MD is a member of the Society for Participatory Medicine. Traditionally doctors have been the central decision makers in the delivery of health care in the United States but patients are demanding more and more active role in making the critical decisions that affect their own health. Society for Participatory Medicine was formed by such patient leaders who wanted to form a coalition around this idea and enable ways to put patients back in the driver's seat when making their health care decisions. Nabin Sapkota MD had established "Symptoms and Diagnosis" book project to teach patients how symptoms are analyzed and how diagnosis is made in real patients. The slogan of "Symptoms and Diagnosis" book is, "Ask not what the symptoms of a disease are, ask what the symptoms of a particular patient mean." This common idea of a patient centered health care helped forge the working relationship between the two parties.
Doctor Sapkota states,"I am very exited to be a part of the patient empowerment movement. I will be doing my part to spread this message of putting patients at the center of health care. I will take these ideas out from the big university teaching hospitals and put them in the community hospitals where the majority of the Americans get their health care. Unlike the big city university hospitals, patients in these communities need more encouragement to participate in their care and that is what I plan to do."
He adds, "I am really impressed with the courage and initiative our patient leaders have taken to achieve so many things in such a short time. Because of their efforts, patient empowerment has gone from obscurity to mainstream media within a few years. They have been able to promote the concept of patient experts who have very specific and extensive up-do-date knowledge of their own disease, diagnosis and symptoms. They envision a healthcare delivery system where doctors and patients share their knowledge and experience and make mutually agreeable decisions based on what would work for the individual patient. Because of the hard work of these patient leaders, patients now have a place to go for help and support when they are having trouble navigating their health care needs."
Doctor Sapkota continues, "There is still a long road ahead in achieving our goals. Unfortunately, there are still doctors out there who think medical practice is about them, not about the patients. But I am very hopeful that it will change sooner than they would like to believe. Currently, many doctors assume patients would not be able to understand the complexity involved in medical decision making and want to make it easy for them. As more patients become empowered, that may not be the case. In my opinion, patients can understand any complex medical situation if we tell them in a language they understand. For my part, I will continue to write articles and produce instructional videos to help patients better understand how human body works in disease and health. When complete, 'Symptoms and Diagnosis' will be the first in-depth medical book written exclusively for patients. It will use the same case based approach to teaching medicine that they use in medical schools but it will also focus on the individual patient as a real human being with feelings and emotions instead of just a case of diagnosis. I hope to empower more patients with extensive medical knowledge and provide them with the confidence they need to work together with their doctor to actively participate in their diagnosis and treatment."