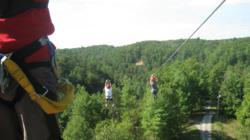 $25 Off Employee Discount cards available free to area businesses.
Campton, Kentucky (PRWEB) March 31, 2012
Summer is in the air and employees everywhere are looking for some fun.
Thanks to a promotion offered by the Red River Gorge Zipline and Canopy Tours at the Cliffview Resort many of these employees will get a chance to leave the stress of the work week behind and soar through the Daniel Boone Forest and over the Red River Gorge.
Local businesses in the Lexington, Eastern Kentucky and surrounding regions with 20 or more employees can take advantage of this promotion by simply distributing $25 off discount cards to employees. There is no cost or obligation to the employer. All the business has to do is ask for the discount cards to be mailed to the business.
There are five lines at the Red River Gorge varying in length from a few hundred to more than 1,900 feet. Dual racing lines are also available so the competitive can race through the air over the gorge at speeds up to 55 mph.
Zipline tours are offered all year long. The area is known for the natural beauty found in the cliffs, waterfalls, canyons, and forests.
The Cliffview Resort offers an inn and cabins for visitors along with meeting facilities, an activity center, picnic shelters, a heliport, and everything else needed for a relaxing get together or corporate meeting.
The zipline tours and Cliffview Resort is located at 455 Cliffview Road in Campton, Kentucky. Contact Amy Sellin at the Red River Gorge Zipline Tours at 1-888-605-2609 if you are a business that would like to take advantage this promotion and have no-cost or obligation discount cards mailed to you that you can give your employees.