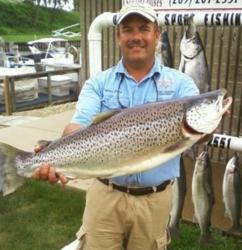 2011 Tournament ran smoothly and also the fishing was great. Some Great Catches were weighed in.
St. Joseph, Michigan (PRWEB) March 31, 2012
Pier 33 Marina will be the headquarters facility for the 2012 Schu's Summer Challenge presented by the Southwest Michigan Steelheaders May 11 & 12 in St. Joseph, Michigan.
This exciting Pro & Am fishing tournament has earned a well-deserved reputation as one of the finest in the region, attracting anglers from throughout Michigan, Indiana, Illinois and Wisconsin for the great early-season fishing found offshore of St. Joseph.
Pier 33's showroom will again host a number of key tournament events. Tournament check-in and registration begins at the Pier 33 showroom on Thursday May 10 at 5 PM, with the Captain's Meeting immediately following at 7 PM. Scheduled fishing hours for each day of the two-day tournament are 6:45 AM thru 1 PM, with the weigh-in both days taking place at Pier 33's West Marina. For the first time ever, Pier 33 will provide a minute-by-minute feed of weigh-in results and standings on both days, posted to http://www.pier33.com/fishing as well as live updates via Twitter & Facebook. The tournament concludes with the Awards Dinner and ceremony at Pier 33's showroom, starting at 3 PM on Saturday May 12.
Schu's Grill & Bar, located in downtown St. Joseph is the headline sponsor of this year's tournament and Schu's will host a Steak Fry on the bluff Friday evening, as well as provide the prime rib dinner for fishermen during the Awards Dinner on Saturday. Other supporting sponsors, in addition to Pier 33, include American Electric Power and Fifth Third Bank. The 333 Championship Series and TopShots4Salmon will also have special programs available for tournament entrants.
Boats will compete in either the Pro or Amateur divisions of the tournament, with an anticipated top prize for the Pro Division of $7,500 and $1,500 for the Amateur Division. The Southwest Michigan Steelheaders is a Chapter of the Michigan Steelhead & Salmon Fisherman's Association. Complete tournament rules and more information about the Steelheaders can be located thru Pier 33's website, http://www.pier33.com/fishing.
Free dockage and parking are available locally for fishermen and many aspects of the event are open to spectators and the interested public.
Pier 33 is a full-service marina located in St. Joseph, Michigan and is a new boat dealer for quality fishing boats from Scout Boats and Pursuit Boats, as well as family runabouts and performance cruisers from Chaparral.