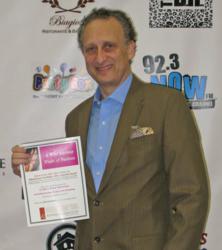 It is an honor to help donate toward research for a cure for this chronic disease.
Fair Lawn, New Jersey (PRWEB) March 31, 2012
The Wild Runway Night of Fashion sponsored by Helen Robles of HR Fashion, and hosted by Rose Kneer, mother of the reigning MissTeen America, Kathrina Kneer, took place at DePasquales in Fair Lawn New Jersey on March 30, 2012. Top fashion designers and boutiques, models, entertainment, and celebrities joined together and donated their time and products to help find the cure for MS.
Multiple sclerosis (or MS) is a chronic, often disabling disease that attacks the central nervous system (CNS), which is made up of the brain, spinal cord, and optic nerves. Symptoms may be mild, such as numbness in the limbs, or severe, such as paralysis or loss of vision. The progress, severity, and specific symptoms of MS are unpredictable and vary from one person to another. Today, new treatments and advances in research are giving new hope to people affected by the disease.
Following heartfelt speeches given by patients and parents of patients suffering from this disease, entertainment, singers, dancers, and models took to the runway to show the latest in fashionable clothing and jewelry for men and women.
At the event, Dr. Korwin's wife Susan signed copies of her new book "Simples Strides Towards Positive Change, Lessons from Life Coaching", and donated all the proceeds of her book sales to the benefit.
About Dr. Robert Korwin
Robert Korwin DMD, MICOI, MAGD is a renowned general dentist, teacher and innovator practicing in Middletown and Red Bank, NJ. With extensive academic, clinical and didactic training, he is one of only a handful of dentists worldwide who have dual Mastership awards from The Academy of General Dentistry and The International College of Oral Implantologists. Dr. Korwin promotes excellence in preventing orally linked disease and provides highly cosmetic dental repair and reconstruction utilizing orthodontics, implants, surgery, prosthetics and sedation, with laser, digital and computer assisted diagnostics. The practice works with patients to maximize their dental health, ensure their comfort and minimize financial concerns.
For more information, please visit http://www.drkorwin.com or call (732) 219-8900.
###