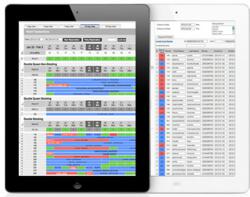 San Francisco, CA (PRWEB) March 31, 2012
Hotel management software company Frontdesk Anywhere and Ordyx restaurant point-of-sale (POS) services announce the introduction of their point-of-sale to hotel property management software interface to provide their joint customers with simplified restaurant charge posting processes. The integration means properties will be able to receive restaurant meal charges, tips and gratuity guest charge postings from their restaurant POS system.
Ordyx offers cloud based restaurant POS services bars, pubs, cafes and restaurants. Once connected, Frontdesk Anywhere will communicate with Ordyx, automatically sending room and guest look-up details and receiving charges as they occur in real-time. Offered as a web-based service, the restaurant staff can connect from anywhere, anytime with their PC, Mac, iPhone or Android device. The Ordyx Mobile application enables staff to bring the ordering system to the table for real time order entry and ticketing.
"Frontdesk Anywhere is focused on providing easy-to-use web-based hotel management software solutions," stated Frontdesk Anywhere co-founder, Thomas Lyle. "The interface with Ordyx as our restaurant POS partner will allow hotels to seamless transfer tickets from the restaurant or bar to the guest's account within the Frontdesk Anywhere hotel property management software. All tickets received will be available in the PMS with no manual intervention required. It's the best of both worlds; visibility and ease of operations. We are delighted to be able to offer a great restaurant management point of sale solution to our growing customer base."
The interface is available for deployment today. Customers may contact Frontdesk Anywhere at 1-866-924-1949 or http://www.frontdeskanywhere.com or Ordyx at +1 561 807 1502 or http://www.ordyx.com.
ABOUT ORDYX
Ordyx is the latest state of the art Point of Sale (POS) service for today's restaurants and bars. Using the most advanced technologies, Ordyx is able to provide restaurants and bars with ongoing, reliable service managers can count on. Ordyx focuses on market trends to provide an ever-growing set of features to help restaurants and bars succeed.
To learn more about Ordyx's products and services visit http://www.ordyx.com.
ABOUT FRONDESK ANYWHERE
Frontdesk Anywhere is a leading provider of innovative hotel management software for independent properties. To date, over 1,000 people use Frontdesk Anywhere every day and 60,000 hotel guests have had their stay managed with Frontdesk Anywhere – from the initial online booking process through arrival, onsite operations and checkout. The company is focused on converging processes traditionally performed by separate systems into a single all-in-one productivity application. All modules are seamlessly integrated within the application and accessible from any computer and most mobile devices. The company is a privately held corporation based in San Francisco, California.
For further information please visit http://www.FrontdeskAnywhere.com.