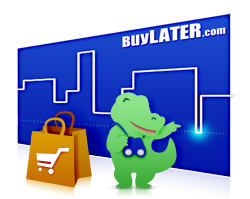 Buy it when the price drops!
Fairfield, Iowa (PRWEB) March 31, 2012
BuyLater, a free price tracking tool, allows shoppers to track items and receive an email when the price drops or reaches a set target price. The extension is now available on Amazon.ca.
BuyLater is easy to install in seconds on IE, Firefox, Chrome or Safari at http://BuyLater.com.
After installing the BuyLater extension, a 'BuyLater' button appears near the 'Add to cart' button when shopping on Amazon.ca or other supported sites, including Zappos.com, Amazon.com, Bestbuy.com, and more.
Shoppers simply click the 'BuyLater' button to track an item and set a target price, if desired. As soon as the price drops or reaches the target price, they will automatically receive an email alert.
BuyLater seamlessly integrates into online shoppers' existing experience without requiring them to leave their favorite website and go through other steps to track items. With BuyLater, shoppers can track an item with a single click without ever leaving the page they're shopping on.
BuyLater makes it easy to save time and money when shopping online.
To learn more about BuyLater, visit http://BuyLater.com.