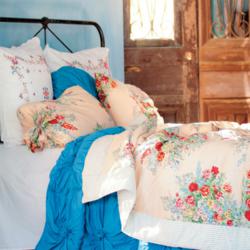 One of our favorite Lazybones bedding collections is the all-cotton jersey Rosette bedding quilts and pillowcases which are offered in a variety of colors
Duluth, Georgia (PRWEB) March 31, 2012
Girls bedding and girls decor boutique retailer, Deck My Dorm and My Royal Sister, have added Lazybones girls bedding to their vintage-inspired bedding collections. Australian based Lazybones bedding, along with their United States representatives, approached Deck My Dorm to widen their girls boutique presence in the Southeastern United States. Leading girls bedding and girls decor retailer, Deck My Dorm, embraced the largely organic and echo-friendly bedding from Australian based Lazybones as an exciting addition to their girls bedding offerings.
"The vintage look and fabulous designs from Lazybones were a natural addition to our extensive girls bedding offerings," stated Deck My Dorm and My Royal Sister Co-Founder, Jana Contardi. "Our customers love that Lazybones shabby-chic bedding is manufactured with natural fabrics. This really appeals to girls of all ages specifically our market of girls ranging in age from teen to young adult," adds Co-founder, Jennifer Cook.
Deck My Dorm and My Royal Sister will carry the majority of the bedding collections from Lazybones. Lazybones girls bedding prides itself on the use of natural fibers and processes that prove kind to Mother Earth whenever possible. Many of the girls Lazybones bedding and girls decor offerings are manufactured from organic and echo surplus fabrics. "One of our favorite Lazybones bedding collections is the all-cotton jersey Rosette bedding quilts and pillowcases which are offered in a variety of colors," said Cook. The all white Rosette quilt has proven to be our best-seller followed by the Rosette quilt in Tuscan Pink and Duck Egg, but all the Lazybones colors have a time-worn, vintage look," adds Contardi.
In addition to the solid Rosette quilts and pillowcases, Deck My Dorm and My Royal Sister also offer Lazybones printed collections of quilts and pillowcases such as the Garden of Eden collection. Each of these collections of beautiful floral prints and embroidered bed linens coordinate with the solid quilts to design a layered bed. "Girls love the printed bedding and enjoy mixing and matching pillows, pillowcases and window panels from other Lazybones bedding collections and bedding separates," said Cook.
My Royal Sister and Deck My Dorm are a division of Peace, Love & Decorating and are industry leaders in girls bedding, girls decor and girls dorm bedding offerings. In addition to manufacturing their own girls bedding designs, Deck My Dorm and My Royal Sister continue to present unique lines of girls bedding and girls decor to provide their customers with decorating versatility that allows girls to express their individual sense of style and design.
The complete line of Lazybones bedding can be found on Deck My Dorm's e-commerce boutique website. Lazybones is also available in our retail boutique storefront, Peace, Love & Decorating, located in historic downtown Duluth, Georgia at 3129 Main Street.