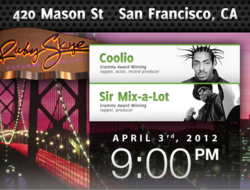 The 10K Challenge is our attempt at igniting that spark, piquing people's interest, and challenging marketers to take the plunge into mobile.
Christiana, DE (PRWEB) March 31, 2012
Digital Marketing, although seemingly an industry governed by business and technology, has become a testament to the power of social media, social graces and social gatherings. Punctuated by the sheer number of affiliate marketing conventions that crop up over the course of the year, solely within the United States, these conventions ensure that avid advertiser, publishers and networks within the digital marketing space are able to collaborate and create innovative solutions to typical marketing queries
Ad Tech San Francisco, which occurs on April 3 and 4th - one of the largest conventions of its kind in the US - boasts upward of 35 sessions ranging from Mobile to Startup Technology. Ad Tech 2012 holds a specific significance for those on AdMobix's affiliate marketing team, as it heralds the launch of the AdMobix 10K Challenge. The contest ensures that every publisher located in the US that successfully meets the $10K mark in revenue for the month of April will receive a Free iPad. This aggressive promotion could not have come at a better time for the mobile ad network, as the company boasts a number of external and internal changes to produce top converting campaigns, and maximize clients' ROI. Although the company works closely and diligently with smaller advertisers, new mandates ensure that fresh campaigns are direct, exclusive or from the Agency of Record.
AdMobix will be kicking off their $10K challenge at their extravagant party - aptly named Xposure - taking place on April 3rd at Ruby Skye, San Francisco's premiere nightclub and social events venue. Notable acts include Jonathan Emile, Clippa, Grammy Award Winning headliners Coolio and Sir Mix-a-lot, and promises to be the social event of the season. AdMobix VP of New Business Initiatives, Neil Raj, believes that this event focuses on a very crucial aspect of affiliate relations. "Socializing is the crux of the affiliate marketing industry, and we want to make sure that we're here, front and center, to help you find some avant-garde business opportunities and have fun while doing so."
"The 10K Challenge is our attempt at igniting that spark, piquing people's interest, and challenging marketers to take the plunge into mobile," Raj explains. A large number of publishers within the industry do currently receive mobile traffic to their sites, though completely unbeknownst to them. AdMobix's contest allows publishers the opportunity to realize and retain this significant volume of mobile traffic, by monetizing it with WAP optimized campaigns.
About AdCommunal
AdCommunal Inc. is a performance-based online marketing provider for advertisers, publishers and online affiliates in the United States, Canada and the UK. The company hosts one of the most progressive affiliate programs in the industry, providing some of the greatest return on investment for advertisers and highest payouts for publishers, with access to ad placements on various websites, blogs and social media sites such as Facebook and Twitter, all on a performance basis.
With various gratuities and tools to expedite the learning curve for advertisers and publishers alike, AdCommunal is truly a one-stop shop for online connoisseurs. AdCanadian, (a Canadian affiliate network), AdMobix (a mobile affiliate network) and AdIndian (an Indian affiliate network)- AdCommunal's subsidiaries - provide the user with a sampling of different campaigns and diverse array of traffic sources, and ensure that the end-user's overall experience is a truly enjoyable one.
For more information please contact Chrystal Mariyanayagam at 646-867-3977 or at chrystal(at)adcommunal(dot)com
###