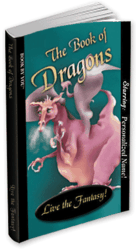 Instead of chocoloate for Easter - give a child a personalized book and help motivate them to read
London, ON (PRWEB) March 31, 2012
BookByYou.com, the world's largest publisher of personalized books, is proud to participate in International Children's Book Day, a yearly event held on April 2 (coinciding with Hans Christian Andersen's birthday) that was created in 1967 to encourage reading and promote the love of books by children.
The free personalized eStory, "The Deliverers of Their Country," is one of four stories from the personalized book, "The Book of Dragons," which features two personalized characters that save the world from ghastly fire and smoke breathing dragons. Also included in the story is an adult character who imparts timely words of wisdom. "Deliverers of Their Country" inspires the imagination and personalization enables children to participate in the adventure and fantasy as the main characters.
KidsBookByYou.com offers many unique personalized children's books. The novels were initially developed specifically for children of reading age to teach kids to read real full-length books but these warm and wonderful tales of adventure can also be introduced to younger children as bedtime stories. The company's novels go far beyond being just tales of adventure. Themes such as the value of friendship, perseverance and following one's dreams are explored and uniquely presented in a manner only possible through a full-length personalized format.
BookByYou.com founder, Mike Pocock, commented, "We are pleased to participate with the International Children's Book Day and look forward to doing so for many more years to come. Increasing children's literacy and helping kids to read real books was the goal over ten years ago when we launched the KidsBookByYou.com imprint and we now have tens of thousands of customers that can attest to our success." Pocock further added, " Instead of giving chocolate for Easter - give a child a personalized book and help motivate them to read."
In addition to the free eStory, the company is also offering the paperback version of "The Book of Dragons" for $16.95, a 30% discount off the retail cover price.
To personalize a copy of "The Book of Dragons" parents can visit http://www.KidsBookByYou.com. The company also offers a free demonstration area to preview personalized excerpts from any of the company's romance, classic, teen, mystery or children's novels.
BookByYou.com is an interactive publishing company and its personalized books have been featured on The View, CBS Early Morning, CNN, Jimmy Kimmel and in USA Today and the Washington Post.
Media interviews and promotional books are available upon request. Please contact Michael Pocock at 1-877-898-1440 or publish(at)BookByYou(dot)com.
###