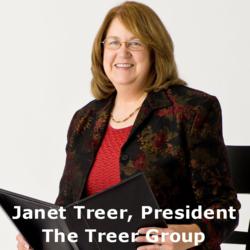 The key to avoiding large-scale turnover as jobs open up is to be proactive.
Lancaster, PA (PRWEB) March 31, 2012
According to a study by MetLife, one third of employees plan to look for new jobs in the months to come. An alarming sixty percent of IT professionals are currently looking to change employment. Evidence suggests that the improving economy and loosening job market are contributing to this trend. As a result, many employers are likely to face a devastating amount of turnover in the near future. There are, however, tangible steps that can be taken to retain employees and minimize the impact on companies.
"The lengthy economic downturn has taken a brutal toll on employees, and they are chomping at the bit to do better," says Janet Treer, President of The Treer Group, a coaching, management consulting and employee retention firm based in Lancaster, PA. "Circumstances have created a perfect storm for employers."
Major factors include:
Burnout – Employees at all levels have had to do more with less. They are tired, their patience is wearing thin, and they are ready for a change.
Compensation Setbacks – Workers have had to bite the bullet. Many believe they deserve more and now is the time to ask for it.
Lack of Appreciation – Overworked and stressed management has often neglected to let employees know just how important they are, making them feel unappreciated.
Disillusionment – Many employees are only willing to run uphill for so long before they conclude that they must move to a new company to make things get better.
Career Stagnation – People put their career aspirations on hold, unwilling to risk going a new direction when jobs were so scarce.
New Opportunities – During this time, normal attrition has not occurred. Employees will make up for lost time.
"The key to avoiding large-scale turnover as jobs open up is to be proactive," continues Treer. "It comes down to the fundamentals of good management. The same best practices that create a positive, healthy work environment in good times are keys to achieving employee satisfaction and retention in challenging times. Many cost little or nothing to implement, but they can make a world of difference."
Treer recommends seven key actions that can improve employee satisfaction and minimize unwanted turnover:
1. Create Urgency – make employee retention a management priority
2. Adjust Compensation – review and revise as appropriate
3. Invite Employee Involvement – people support what they contribute to
4. Set Clear Expectations – of employees and management
5. Say Thank You – sincerely and frequently
6. Improve Communications – be open, honest and do it often
7. Utilize Assessment Tools– identify issues for employees and the organization
Treer emphasizes the importance of acting now, before the crisis hits. She also strongly recommends getting professional help in performing valid assessments of the company, its employees and their attitudes.
Read Janet Treer's article: Employee Retention in an Improving Economy
About The Treer Group: The Treer Group provides coaching, assessments, tools and guidance to help organizations and individuals identify areas in need of improvement, discover practical solutions and implement long-lasting change that comes from within. Janet Treer, President, founded The Treer Group in 2007.