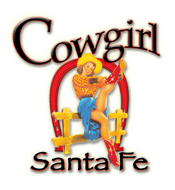 Santa Fe, NM (PRWEB) March 31, 2012
Starting at 2 p.m. on Sunday, April 1, Cowgirl BBQ, a featured company in both the SantaFe.com Restaurant Guide and Business Directory, brings the super talented and award-winning Joe West to the stage. West successes during his career in music include writing and recording music with several bands, producing an original children's CS, producing music for film and television (most recently the Emmy awar- winning documentary, SPLIT ESTATE), and more recently, creating an all original conceptual radio show called THE INTERGALACTIC HONKY TONK MACHINE. He also wrote and produced a full length rock opera. One of West's bands, The Santa Fe All-Stars, was voted "Santa Fe Reporter's Best Band" in 2008, 2009 and 2010. During his career, West has shared the stage with notable music industry greats such as Peter Rowan, Arlo Guthrie and the Violent Femmes.
During the early part of his career, West spent many years in New York City working as an actor and subway musician. He then moved to Austin, Texas, where he wrote and produced his own CD, "Jamie Was A Boozer'," rated as a Top 10 Texas Platter by the Austin Chronicle. The CD went on to become a huge success on indie radio stations across the U.S. and in Europe as well.
About SantaFe.com
SantaFe.com provides locals and visitors to Santa Fe alike the most current interactive platform for events, music, arts, business, dining and lifestyle. SantaFe.com is a division of Hutton Broadcasting, located at 2502 C. Camino Entrada, Santa Fe, NM 87507
Contact Information:
Scott Hutton
SantaFe.com / Hutton Broadcasting
http://www.santafe.com
(505) 471-1067 (Media inquiries only, please)
About Cowgirl BBQ
Since 1993 the Cowgirl BBQ, which now occupies almost the entire block where it started, includes a restaurant, a billiard parlor, a commercial catering kitchen and several private party rooms. The patio is one of the most inviting summertime venues for locals and tourists alike and the Cowgirl has become a local institution.
Contact Information:
Barry Secular
Cowgirl BBQ
319 S. Guadalupe St.
Santa Fe, NM 87501
http://www.cowgirlbbq.com
(505) 982-2565