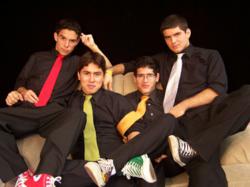 We look forward to creating new ideas, colors, and art from neckties with YAC and many others with this new program. This will be fun
Las Vegas, NV (PRWEB) March 31, 2012
Tiecoon.com will be giving neckties away to schools, art collectives, art programs and individual artists for the artists to decorate, embellish or alter into any form of art they can imagine. Finalists will be selected within the art collectives, and cash prizes will be funded by tiecoon.com. The finished art will be offered for sale on Tiecoon.com, and 100% of the proceeds of the sales of the tie art will be given to the young artists.
Tiecoon.com is seeking schools, young artists, and any form of youth art collective in the San Diego, Los Angeles, Las Vegas, or San Francisco area who would like to participate. Tiecoon.com will provide free of charge ties for kids to begin creating the art, provide cash or other compensation for the winners of each group of necktie artists, host the tie art for sale on Tiecoon.com, and provide 100% of the proceeds to the young artist who created it. Please email support(at)tiecoon(dot)com to recommend a group for the program.
Tiecoon.com is a Nevada based company that sells neckties, bowties, extra long ties, silk ties, boy's ties and hankys online. Tiecoon.com was originally opened in 2005 in San Diego, California, and has burgeoned within the last two years. Tiecoon.com sells top quality neckties for $5, making them a front running choice for schools, uniforms, and everyday professionals who enjoy wholesale neckwear.
"Our necktie business had an excellent experience with the Youth Art Collective in Monterey, California," says Jesse Pederson, president of TCDC Corporation. "We look forward to creating new ideas, colors, and art from neckties with YAC and many others with this new program. This will be fun."