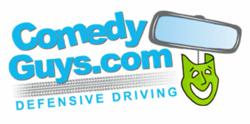 If you ever pay more than $12 for your Texas driving record, you went to the wrong Website.
Dallas / Ft. Worth, TX (PRWEB) March 31, 2012
Comedy Guys Defensive Driving today warned driving safety students and other Texas drivers not to pay large fees to obtain an official Texas driving record. All Texas drivers may now get their own driving records online for a one-time fee of twelve dollars.
Increasingly, Texas courts are requiring a class 3A driving record as part of the dismissal of a speeding ticket or other moving violation. ComedyGuys.com wants to protect students both in its live defensive driving classes and who take defensive driving online from the significant fees that some services charge to procure a Texas driving record.
Last year, the Texas DPS initiated a policy change regarding driving records that intended to make drivers' lives easier and save them money. Beginning in 2011, it was possible for any Texas driver to go to the texas.gov website, fill out a form, and print their own driving record immediately.
But there are many defensive driving students who don't know about this change, and some driving safety schools have taken advantage of that fact to increase their profits.
"Just a few weeks ago, I had someone in one of my classes who'd paid $65 to get his driving record," said Gary Murray, a Comedy Guys instructor who teaches defensive driving classes in Mesquite, Texas. "I told him what I tell all of my classes: if you ever pay more than $12 for your driving record, you went to the wrong Website."
In years past, driving records could be obtained from a number of specially designated DPS offices across the state, though one by one, these locations stopped providing this service. The last one, the DPS office on Interstate 30 in Garland, stopped printing driving records in September 2009.
Since then, all official driving records have had to be obtained from the central DPS office in Austin. Drivers needing such records may request them either through the mail or through the texas.gov website.
In 2011 it became possible for individuals to print their driving records out immediately after completing the request form and paying the $12 dollar fee online.
ABOUT COMEDY GUYS
Comedy Guys Defensive Driving is one of the largest driving safety schools in Texas. Through its online defensive driving course, which is optimized to work on various smart phones and mobile web devices, and its live defensive driving classes in seventeen cities across the state, ComedyGuys.com makes it possible for Texas drivers to become safer drivers, lower their insurance costs, and get speeding tickets dismissed, all while having a few laughs with the professional comedians who teach the classes.