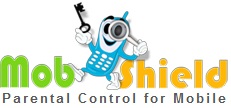 MobShield Gives Parents the Ability to Filter, Block and Monitor how their Children use Mobile Phones.
Sugarland, TX (PRWEB) April 28, 2012
No parent can ever be sure where their child goes after school, who they talk to, and what activities are performed on their mobile phone. In the most serious instances, a call from a stranger can potentially result in a child's kidnapping, sexual solicitation or an unsavory meeting.
To help parents keep track of their child's activities, new mobile parental control software, MobShield has been launched. MobShield allows parents to restrict the use of their child's cell phone whilst monitoring the phone's activities.
According to MobShield spokesperson, Charles Limoges, recent statistics highlights the frightening dangers that can arise from cell phone usage.
"According to recent statistics, 1 in 7 youths aged between 10 to 17 receive sexual solicitations online; 34% are involuntary exposed to sexually explicit materials; and from those kids, only 27% actually informed their parents of the events," said Mr. Limoges.
"We have therefore created MobShield to help prevent the dangers of exposure to sexually explicit material, cyber bullying, predators and text addiction. With the software, parents can now feel comfortable about giving their kids a mobile phone."
The MobShield software, which reportedly takes just 2 minutes to install even for the most technically challenged parent, includes the following features:

Black List Contacts – the ability to block unwanted calls and messages from strangers.
Block Application Usage – parents can block the use of 3rd party applications.
Activity Tracking – parents can now track all incoming and outgoing calls and messages going through the phone, and view detailed logs.
Restrict Phone usage – set limits for time spent on the phone and internet.
Block websites – specific unsavory websites can be blocked.
GPS Tracking – parents can now use the latest GPS tracking feature to see in exactly which geographical location their child is currently located.
SMS Alert – parents are notified when SMS messages are sent or received that contain specific per-defined keywords.
Panic Alert – if in trouble, a child can dial in a simple code that will instantly alert family members via SMS, as well as provide their GPS position.
Much more…
For more information about the MobShield parental control software, visit http://www.mobshield.com/
About MobShield:
MobShield is a parental control and monitoring software that uses the latest technological developments to enable parents to filter, restrict and monitor the mobile phone activities of their child. MobShield is compatible with iPhone, Android, Blackberry, Symbian and Windows based phones.