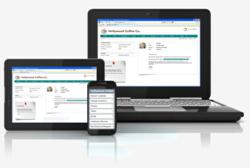 Managing with my iPhone saves me at least 3 hours a week.
Austin, TX (PRWEB) April 24, 2012
With the launch of ManagerComplete's mobile version, the ability to manage directly from the iPhone is now a reality for business managers.
"The iPhone is not just for games anymore," says Tod Holley, owner of Darque Tan tanning salons in Denver. With seven locations across the city, Mr. Holley uses his iPhone and ManagerComplete, a web-based intranet application designed to centralize management tasks, to manage all business operations.
The entire Darque Tan organization in Denver is able to access their ManagerComplete intranet from any mobile device or computer. They manage everything from customer service, sales, maintenance issues, and even shift scheduling.
"It's easy when you can go straight to ManagerComplete for all scheduling," said Terra Flores, General Manager for Darque Tan in Denver. The expeditiousness of the application allows extra time to manage the big picture. "It's made my life ten times easier. Before I had to go through tons of emails and make so many phone calls," said Flores, adding, "I don't have to worry about those inefficiencies anymore."
One aspect of business management that Holley says "feels like an improvement of 100%" is maintenance and repair. Because staff can post onto the intranet about maintenance requests directly, the maintenance team who also has access to the ManagerComplete, is immediately aware of every maintenance issue that occurs for all seven locations.
"It is nice for our Maintenance Team to be able to log onto a singular place on their phones," Holley said. Tracking issues from mobile devices have helped free up both managers and staff for more important issues.
Tod Holley sees ManagerComplete as a more than just an intranet. "It's more like a 'business social network', a way to keep everyone on the same page." The Bulletin portion of the application helps keep management and staff connected on a personal level that was not there before. "We post pictures, birthdays, Manager of the Month, and motivational quotes to help each other out," Holley said.
Additionally, inspection reviews of each location are posted for staff to see "what goals to work on." By making inspection results available to all Darque Tan staff, "it gives them the drive to get a better score, because no store wants the lowest," said General Manager Flores.
"Managing with my iphone saves me at least three hours a week," Holley said. When asked what he does with all the extra time he saves by using his iPhone as a management tool, Holley simply said, "now I have time to actually run my business."
About ManagerComplete
Started in 2006, ManagerComplete provides hosted intranet solutions specifically designed for managing businesses with multiple locations. ManagerComplete helps organizations effectively and efficiently communicate across all their business locations.
This article was written by Walter Jabcuga.