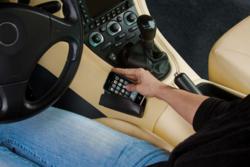 "The MobiValet™ provides safety, convenience, and style - all in one product."
Laguna Niguel, CA (PRWEB) April 10, 2012
MobiValet, Inc., manufacturer of the unique, smartphone holder for vehicles, has been awarded a United States Patent and Trademark Office issued US Patent #D649,145, entitled "Holder for a Mobile Communications Device." The patent, the first to be issued to MobiValet, signifies the importance of convenient Smartphone safety while driving as well as being the first in this market to offer a fashion forward holder for a vehicle.
MobiValet's fashion forward approach to safety and convenience separates MobiValet from traditional Smartphone holder products. Offering premium and faux leather options, the MobiValet provides a variety of colors and styles within the Casual, Premium, and Exotic collections.
Clay LaFargue, Founder and CEO of MobiValet, Inc. explains, "Most drivers currently put their phone in the cup holder, between their legs, or even on the dashboard. All these provide safety concerns because the phone can easily slide around and end up on the floorboard which is very dangerous for a driver who will likely reach to pick up their phone off the floorboard while the car is in motion." LaFargue further states, "the MobiValet provides safety, convenience, and style - all in one product. The MobiValet is the first product to challenge the "plastic mounts" currently on the market."
Additional advantages of the MobiValet include an acrylic adhesive specifically designed for use in automobiles which attaches and removes easily to the console of any vehicle. The lowered sidewall design of the phone holder enables the phone to charge while in the holder providing secure and quick access to your Smartphone. Offered in two sizes, MobiValet fits 99% of Smartphones on the market.
Fans of the MobiValet have taken to social media sites and online retail giants such as Amazon.com, to sing their praises on the smartphone holder, with customers writing in to say how much they rely on the MobiValet while driving.
The MobiValet is currently sold through Skymall, Amazon, AccessoryGeeks.com, Crowder's Gifts, and other independent wireless retailers.
About MobiValet, Inc.
Laguna Niguel, California based MobiValet Inc. is an innovative manufacturer of fashionable high high quality premium leather smartphone holders that provide safety, convenience, and style for today's smartphone users. Dedicated to delivering unique products that meet the needs of today's consumers, MobiValet's mission is to help everyone who drives a vehicle to experience the freedom and peace of mind that can be achieved when using this stylish smartphone holder. To learn more, go to http://www.mobivalet.com.