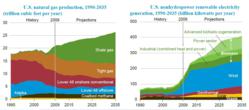 "The US sits on immense quantities of coal, about 25% of the world's reserves"
New York, NY (PRWEB) April 22, 2012
Energy is the vital force powering business, manufacturing, and the transportation of goods and services to serve the American and world economies. Energy supply and demand plays an increasingly vital role in our national security and the economic output of our nation. It is not surprising that the United States spends over 500 billion dollars annually on energy.
Today's higher prices for oil and gas put a new emphasis on production from alternative oil sources such as tar sands in Canada and oil shale in the U.S. Meanwhile, offshore exploration and production will continue to be emphasized in many parts of the world, with sophisticated rigs drilling ever deeper to tap massive reservoirs, using technologies that enable the rigs to go to depths undreamed of 20 years ago. Vast new investments in very deep offshore wells in the Gulf of Mexico will bring significant new production to the market over the mid-term.
The US contains only about 2.5% of the world's known natural gas reserves. Natural gas consumption has been growing rapidly, and this demand has pushed prices to very high levels. Nearly 20% of US electricity is generated at gas-burning plants, so the cost of natural gas has hurt electricity consumers in many parts of the nation. At the same time, however, the US sits on immense quantities of coal, about 25% of the world's reserves. America's 1,300 coal-fired electric plants already create about one-half of the nation's electricity, and technologies that enable coal to be burned in a cleaner manner will be adopted across the nation. However, the price of coal has been soaring in the US, along with the cost of oil and gas.
Aruvian's R'search presents Analyzing the Oil and Gas Industry in United States – a complete research report on the Oil and Natural Gas Industry of the United States anylizes these changes. The massive globalization and consolidation strides taken by the industry with the requirement of heavy capital investment that brings in more competition and the overall focus of the industry to meet the environmental challenge with Alternative Energy Supplies.
Source: http://marketsensus.com
Further Research visit Marketsensus:
Electricity Plants and Supply
Coal Generation
Alternative Energy
###