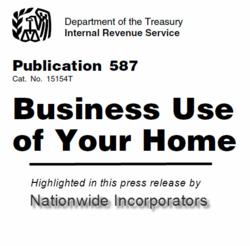 Just because there's a room at home that doubles as an office doesn't mean a home-office deduction applies. Using the kitchen table every night to write orders doesn't qualify but setting aside a space in the garage for business use might.
Frisco, TX (PRWEB) April 16, 2012
There is more to qualifying for a home-office deduction than just having a room at home that doubles as an office. Even if a business is home-based, it doesn't automatically qualify a taxpayer for the home-office tax deduction according to Nationwide Incorporators, an attorney-staffed online incorporation service. There are specific requirements that must be met, records that must be kept, and limitations that apply. "The Internal Revenue Code requires that a designated portion of the home be used regularly and exclusively as a principal place of business," says Mike Ross, an attorney and founder of Nationwide Incorporators. "You can be a homeowner or a renter and your home can be an apartment, condominium, mobile home or even a boat.
Regular and Exclusive Use
Regular use does not have to be daily use, but if a designated space is used only occasionally or incidentally, Ross says it will not meet the regular use requirement. Ross also states that the Code does not require the space to be a separate room or even a partitioned area in a room as long as it is a separately identifiable space. However, Ross says the deduction will not be available if the space is used by anyone for personal reasons in addition to the business use.
Principal Place for Conducting Business
Ross described several ways to meet the requirement that the home is the principal place for conducting business. It will be met if the home is used exclusively and regularly for administrative or management activities such as maintaining books and records, billing, ordering supplies and writing orders or reports, among others. It may also be met if a person (a) regularly and exclusively uses part of the home to meet with clients, patients or customers, or (b) exclusively and regularly uses a free-standing structure to conduct business even if it is not the principal place for business. This could be a studio, workshop, barn or garage, Ross said.
Using the Home-Office Deduction for an Employee
The home-office deduction is not just for a home-based business. Ross says the deduction may also available to an employee who uses part of the home for business if the tests discussed above are met plus (1) the business use must be for the convenience of the employer (not merely appropriate and helpful), and (2) the area used to perform services for the employer are not rented to the employer.
Additional Considerations for the Home-Office Deduction
When these requirements are met, Ross states that it is still necessary to calculate the amount of the deduction that can be taken, which involves several factors such as calculating the percentage of the home used for business, the specific type of expense involved, and whether any deduction limit applies. "Direct expenses are those relating solely to the space used for business and are generally fully deductible. Indirect expenses, such as utilities and insurance, relate to both the business and non-business use spaces of the home and only the business use portion is deductible. Lastly, unrelated expenses pertaining to only non-business use areas are not deductible as home-office expenses," Ross says.
Keep Good Records and Get Financial Advice
"Anyone who regularly uses a portion of his home for business purposes should consult with a financial advisor to review these requirements in detail and ensure that the proper use of the home is made to take advantage of the home-office deduction. This includes a plan for maintaining adequate records including cancelled checks, receipts, work orders, and other evidence of expenses that have been paid," says Ross. For more detailed information on the home-office deduction, an IRS publication on this subject can be accessed here.
About Nationwide Incorporators
Nationwide Incorporators is an exclusively attorney-operated online incorporation service providing complete formation services in all 50 states for business corporations, professional corporations, nonprofit corporations and limited liability companies. Services are provided through comprehensive, step-by-step questionnaires on the company's website as well as by phone. Appointments can also be scheduled in the company's offices at 2591 Dallas Parkway, Suite 300, in Frisco, Texas. Michael A. Ross is the president and founder of the company. He is a California licensed attorney admitted to practice in 1972 and a graduate of Loyola University School of Law in Los Angeles.