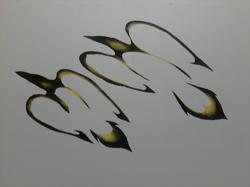 Kingston, Ontario, Canada (Katarokwi) (PRWEB) April 10, 2012
Residing at his home in Kingston or known in its true origins Katarokwi. Hill creates art in his humble quarters struggling with the challenges of an almost impoverished existence. Hill currently survives on a small government pittance, due to the fact that he unable to maintain normal work activities due to poor health and the fact he has been deemed emotionally unstable. Despite the challenges of being destitute and suffering from emotional lapses, he has decided to pour him self into his creations to escape from the world he struggles with. In the early hours. Hill can still be found working through the night developing and evolving from his earliest beginnings as a formal artist when he debuted at Ottawa City Hall in the nations capital. Although Hill has exhibited at other places such as Vainer City Hall, Place Bell Canada Corporate Building, and in times of financial distress at the local Byward Market located near Parliament Hill just off of Sussex. He has often been discouraged by both family and friends not to produce his work. "It's just a hobby" as said by one such relative, Hill unrelentingly marches forward to achieve his goal.
"All I want to do is carry on in memory of an Indian soul who I think was lost to soon in life, and I think is just a (expletive) shame for the world."
This advanced form of traditional native art, Hill proudly shares his history and the depth of his cultural upbringing and aboriginal existence. Each piece signed by Hill contains a ancient glyph, that is the representation is his true name, Hawk-who-flies-over-the-Hill, and this is but one of the many authentic and purposeful characteristics of his pieces.
To achieve this, Hill carries on many of the practices of: Benjamin Chee Chee by continuing to both advance and modernize aboriginal art but also to keep with the traditional reason and purpose of classical aboriginal art that tells the stories and history of his robust and beautiful people. Two of the greatest desires struggled with, are to become wealthy, to be able to hold on to his wife, and ensure this beautiful history is not lost to time itself. In many years from now, this tapestry of a lost culture, will still be remembered even long after he is gone, like those who have came before him.
Hill has always believed in the advancement of aboriginal art and will never retract from that goal.
" Sometimes I feel like the world is against what I am trying to achieve for not only my own people, but for Aboriginal People in Canada, but for all non-aboriginal peoples of the entire planet."
Mission Statement:
Ravens Aboriginal Art Company strives to modernize and revolutionize Traditional Aboriginal Art through the collective of artists within the company. Pottery, bead work, and various handwork's are but a few of the collectives efforts to both bring new and traditional art to the world.
For more information, please visit :
http://fineartamerica.com/profiles/peter-hawke-hill.html