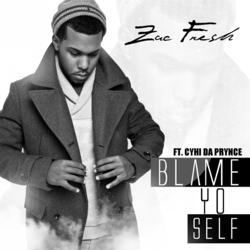 CYHI THE PRYNCE - I like Zac Fresh's sound. His voice is great for recording. I would like to work with him on future projects.
Columbus, OH (PRWEB) April 09, 2012
While most kids his age are taking driver license exams and vying for the latest video game, teenage phenomenon Zac Fresh is taking giant steps towards becoming one of today's top hip-hop recording artists.
Of African-American and Somalian decent, the young leader's skill set behind the microphone has sent him barreling into the music business with leaps and bounds, opening doors for him left and right and catching the attention of the industries finest.
At only fourteen years old, little Zac Fresh was working with heavyweight producers like Chris Flame (Jay-Z, David Banner, Gorilla Zoe) and Diesel (Lil Wayne's The Carter III). He has appeared on BET's 106 and Park. The show was said to be so vastly impressed with the youngster that they asked him to write the official theme song for their popular "Wild-Out Wednesday" segment.
Set to release his debut album this year (possibly through INgrooves Fontana Distribution), many labels are already aggressively putting their bids in – and understandably so. Zac Fresh has a high-profile collaboration available online with Yelawolf, who is signed to Eminem's Shady Records and will be featured on the widely anticipated upcoming Slaughterhouse release. With the possibility of collaborating on a song with Justin Bieber, the Ohio native's first studio album promises plenty of spark and a strong suggestion of mainstream success. Highlights include production by A-list producer Linx (known for his work on Fabolous' certified platinum second studio album Sweet Dreams alongside producers Just Blaze, Kanye West, Poke and Tone, and Rick Rock, among others) as well as production by Kanek Music.
Zac Fresh's first single "Blame Yo Self" features CyHi Da Prynce, who quickly rose to fame after appearing on Kanye West's Grammy Award-winning fifth studio album, My Beautiful Dark Twisted Fantasy, which has since been certified platinum selling well over a million copies. CyHi Da Prynce made his appearance on the song "So Appalled" which also featured Jay-Z, Pusha T, Swizz Beatz & RZA. (CyHi is signed to Akon's Konvict Muzik label, Bu Thiam's BuVision label, Kanye West's GOOD Music label and Def Jam Recordings).
The official remix for "Blame Yo' Self" is produced by Trakksounds who is known for his work with Bun B, A$AP Rocky, Wiz Khalifa, 2 Chainz, Freddie Gibbs, Royce Da 5'9, and many more. Both "Blame Yo' Self" and the official remix have received a massive amount of online attention—both by the media and fans alike—gracing all the top hip-hop news outlets, allowing just a glimpse of a massively successful commercial artist in the making.
Zac Fresh with T.G.I.F Music Group and Fam Biz Entertainment have teamed up with Jonathan Hay Publicity, Hoopla Media Group and SpinDr for media representation and creative marketing.
Everyone can easily request the song at your favorite radio station here.