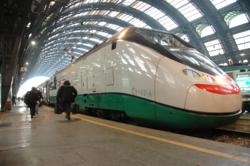 Train travel is definitely the best way to see the country. It's so easy and seeing the countryside is absolutely spectacular.
Chicago, IL (PRWEB) April 11, 2012
Even before travelers depart for their Italian vacations, they can easily book Italian train tickets for every leg of the trip. Select Italy (selectitaly.com) now offers a comprehensive train ticket service and competitive prices for all travelers visiting Italy.
Since the first Italian railroad was constructed in 1839, train travel in Italy has evolved to become not simply a practical means of transport between cities but a truly romantic way to see the countryside. No longer just a way to deliver cargo to/from Naples, rail travel in Italy has flourished to be the easiest and most convenient way to travel.
Seat reservations on Eurostar Italia, the carrier of high speed trains between major cities, are mandatory. Select Italy offers online booking and seat reservation service for a stress-free approach to purchasing high-speed train tickets from home. Should travelers not see a desired route on the website, the company will customize the ticket upon request for all trains throughout the Italian rail network.
"Train travel is definitely the best way to see the country. It's so easy and seeing the countryside is absolutely spectacular. Especially between the larger cities, it's much more preferable than driving in Italy," says Michaelanne Chapel, Senior Sales Consultant at Select Italy "Travelers that book high-speed trains on the Select Italy website enjoy the greatest comfort between cities without wasting precious vacation time that could be better spent at the destination, saving money and often time if compared to air travel."
Because Select Italy is an appointed agent for Trenitalia, travelers receive actual boarding passes, not vouchers to be exchanged for tickets. Electronic tickets are sent directly to the client's email account, ready to print before leaving home.
For pricing, booking and full details visit Select Italy train tickets page to check schedules and buy tickets with seat reservations. It is also possible to speak to a representative by calling the toll free number 800.877.1755 for US and Canada, +1-312-664-4200 internationally.
About Select Italy
Select Italy is the ultimate source for travel to Italy and offers a wide array of superior Italian products and services, including customized itineraries, state-of-the-art tours and packages, wedding/honeymoon trips, unique culinary classes, a complete pre-departure ticketing service for museums and musical events, private guided services, yacht charters, transportation, hotel reservations, villa bookings and more. In 2010, Select Italy opened a full-service branch in Shanghai, China. For more information call (800) 877-1755 or visit selectitaly.com.