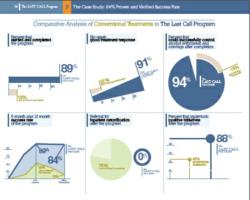 At age 24, neither the Betty Ford Clinic, AA, or a half-way house had solved my problem. I followed this program for a month and haven't wanted any alcohol in the past seven years.
Baton Rouge, LA (PRWEB) April 24, 2012
For US residents who are heavily addicted to drinking and struggling to find a way out of this problem, an effective solution is on the way. A special course on combating alcoholism named The Last Call Program is going to be featured on public television across the US starting this April.
This program has been highly successful in the last few years, having helped hundreds of alcoholics to regain total control over their drinking pattern. With an 84% success rate, this form of treatment can be said to be much more helpful compared to the other conventional treatment modes. To make it even better, no side effects have been reported so far.
The Last Call Program is a purely herbal treatment, comprising two major components. Both components are special chemically formulated solutions that are mixed with water and taken many times a day. Users report that the most dramatic decline in unusual urges to drink excessively occur within only five to six weeks.
The first of the two herbal solutions is Sobrexa, a liquid that helps in restoring a proper body balance chemically. With continuous consumption of Sobrexa, patients slowly start losing interest in drinking. If a client follows the course for the full tenure of eight weeks, he or she will have the choice to either cut back the amount they drink or quit drinking totally. Even if the program is followed for five to six weeks, patients will be able to lose a big part of their addiction.
The second solution is Kalmaro. It primarily works on toning down the addiction for alcohol. Both solutions work in tandem and are proven to be of great help in restoring total body balance chemically. It is a one-time process that does need any further follow-up or maintenance programs.
The fact that The Last Call Program has been highly successful so far in helping people quit drinking can clearly be understood from the words of some of their clients.
Misty says, "I have been on this program for six weeks now, and the progress is amazing. I have been a heavy drinker for many years. I have tried several programs and even tried at home and just stopping on my own. Nothing has worked until I started this program. I have had no cravings for alcohol and have had no alcohol in six weeks. This program truly does work miracles."
In the words of Carl, "This is the end of week two for me. I can still open a beer and enjoy it but don't feel like I need to. There has definitely been a reduction in desire to drink."
The price for The Last Call Program is $14 per day. This means, if you are taking it for the recommended eight weeks, you will need to spend roughly $100 per week. The company ensures 100% privacy and discretion. Clients can follow the course at home, using a ready-made do-it-yourself product kit. Clients can directly get themselves enrolled without any third-parties.
About Us:The Last Call Program is a working solution developed by AvantCare Labs with a purpose to help people limit or stop alcohol dependency through herbal treatments.