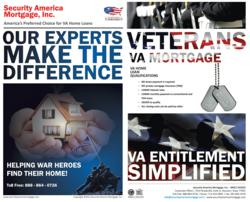 Houston/Dallas/Austin/McAllen/San Antonio, Texas (PRWEB) April 19, 2012
Real Estate Services News alert to veteran home buyers: Garrett Puckett launches extra assistance for military members purchasing a home in Houston, Austin, San Antonio, and Dallas, Texas in 2012.
Military Members purchasing a home in Houston, Texas can qualify for a VA Jumbo Home Loan as high as $1,000,000 in 2012. Buying a home in Houston, Texas for mortgage amounts over $417,000 may seem unachievable, however, for eligible Veterans and Active Duty Military Members this is almost an upfront guarantee thanks to the revisions of the VA Home Loan Benefit and the 2012 VA Loan Limits. Lenders and Real Estate Experts like Ryan Ward from Security American Realty in Houston, Texas offer rewards on Real Estate purchased by military families, such as the use of VA Jumbo Loans and negotiations on mortgage rates. Since getting approved for Jumbo VA Loans in Houston, Texas is a reality for many military members who have taken the first step of the VA loan process, the full seven steps have been outlined by the Real Estate Experts to further assist veterans who dream of home ownership in Houston.
VA home loans are VA loans insured and backed by the Department of Veteran Affairs (VA) and these mortgages are funded by the government with the assured promise to pre-approve any eligible Veterans or Military members for a home based on the individual members' entitlement and VA Loan Limit. In Texas the maximum regular VA loan limit is $417,000 - but a VA Jumbo Loan in Texas goes as high as $1,000,000! Co-sponsors and VA Loan Experts from Security America Mortgage, Inc concluded that, getting pre-qualified for a VA Home Loan (and Jumbo VA Loan) is so easy that the hardest parts are easy compared to regular mortgage loans. The truth is, fear of taking the first step is the main reason why so many veterans halt in the beginning of the VA Loan Process, but the initial steps toward receiving the VA benefits they so rightly deserve are simple as soon as the first action is made.
The Jumbo VA Loan Process is also very similar to the approval process of a VA Home Loan, the process is listed in seven steps to make the VA Loan Real Estate Process easier for military families looking for a home.
"The Seven (7) Easy Steps of the VA Home Loan Process" are as follows:
-Step 1. Home Buyer Contacts a Licensed Real Estate, Find Homes For Sale, and Contact a VA Mortgage Lender to begin the VA Home Loan Process
-Step 2. Home Buyer Applies with a Lender's Application Form, Beginning the VA Home Loan Process.
-Step 3. Home Buyer Requests the Required VA Forms to the VA Loan Experts for Review:
-DD214 VA Request Form (Discharge/Separation Papers Showing the Last Period of Service).
-Certificate of Eligibility Request Form- COE (Document Showing Entitlement Info according to the VA).
-Step 4. Property is Inspected and Appraised by an Approved VA Inspector/Appraiser.
-Step 5. Calculations of VA Home Loan & Estimates of the Property's Reasonable Appraised Value is Determined by the Lender - VA Loan Forms and Application are sent to the VA for review.
-Step 6. VA Reviews the VA Application Forms Submitted by the Home Buyer and VA Loan Expert.
-Step 7. The Home Value Amount vs. Calculations of Home Buyer's Entitlement is Assessed and Determined by the VA. If your application is approved, the Home Buyer gets the VA Home Loan!
VA Home Loan Benefits are easy to obtain and stand out from FHA benefits-period. The main reason veteran home buyers turn to the VA Jumbo Loan Process is because it is much easier to get approved for when compared to financing an FHA Jumbo Loan or a traditional mortgage loan.
Also to keep in mind - since the interest rates can change on a daily basis (and sometimes even a couple times during the one day), it's important to shop wise and close fast when you are ready to purchase a home with a Jumbo VA Loan. The interest rates are also based on 30 year mortgages as well as other industry calculated standards. Factors such as your credit, down payment, employment income status, the loan program you decide to choose, and many other things can also affect your interest rate, causing the cost of the monthly payment to fluctuate. The most important thing you can do for your family is to make the wisest choice by taking advantage of the VA Jumbo Loans available to you.
Buy a Home with a VA Jumbo Loan in Houston, Texas and Contact a VA Home Loan Expert at Security America Mortgage, Inc. today!