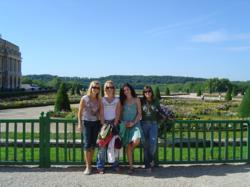 (PRWEB) April 05, 2012
Nacel has been leading the French market for over 50 years, constantly adapting to the ever-growing demand for quality language schools in France and abroad. Nacel offers more than 200 different options in 9 languages and in over 20 countries around the world. Nacel incorporates programs tailored to every need.
This year is no exception. Nacel newly established language school specializes in summer French courses, offering intensive French classes in Paris to international students 16 years old and older who wish to learn or improve their French skills while experiencing the French way of life.
The school is located in a recently renovated building in the 13th arrondissement, next to the city's famous Latin Quarter. It's open from July to September. Students from all levels can choose from one week up to a full month of French classes, with full board accommodation in a French host family. Youth hostels and B&B accommodation are available for the more independent traveler.
The school accepts young learners and adult students of any level from absolute beginners to advanced. French courses cover every aspect of the French language: reading, writing, listening and speaking. One of the many advantages of these French classes is the size of the groups, with a maximum of 12 students each, allowing students to receive a more personalized attention. All teachers are native French speakers and "FLE" qualified (French as a Foreign Language). The school's facilities include: a multimedia room, a library, self-study rooms, free Internet access and a cafeteria.
French classes are from 9am to 1pm from Monday to Friday, which gives students plenty of time in the afternoons: explore the city, enjoy a nice walk in the wooded park behind the school called Parc de Choisy or discover the magnificent Paris culture of fine arts, exquisite cuisine and high fashion.
First time travelers don't need to worry, the French school has an onsite student counselor that helps newcomers with their everyday life in Paris and offers them various choices on local visits and activities. A 24-hour emergency line is also available to all students.
Nacel French School in Paris invites young students and adults to take on an exciting and challenging learning journey filled with cultural experiences, which will allow them to open their minds to creative ideas and unique ways of looking at the world.
For more information on our French courses in Paris, please contact Nacel International by calling USA: +1-651-315-7880 or email info(at)nacel(dot)org.