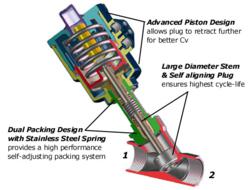 Assured Automation Angle Valves and High Performance Butterfly Valves deliver a high cycle life with minimal space requirements for air dryer and air separator manufacturers
Clark, NJ (PRWEB) April 30, 2012
Manufacturers of equipment used to dry compressed air, or extract nitrogen and oxygen using a PSA system, are built with components that must meet specific, demanding requirements. For reliable performance, flexibility, availability and endurance, these manufacturers rely on valves which can deliver a high cycle life with minimal space requirements. To meet these stringent requirements, leading manufacturers rely on Assured Automation's angle body valves and high performance butterfly valves.
Common poppet valves, ball valves and resilient seat butterfly valves cannot meet the high cycle demand of air dryers or air separators. These systems require high-speed, durable and reliable valves. Angle Seat Valves are preferred for smaller line sizes offering high cycle-life, durability and reliability, and compact assembly. High performance butterfly valves are preferred for line sizes 3" and larger. Both valve designs will meet the high cycle demands of air dryers and air separation equipment.
Angle Seat Valve Durability and Reliability
The Angle Seat 2/2-way pneumatically actuated piston valves were designed for liquids, gases, steam and some aggressive fluids applications. The valve body is offered in either brass or stainless steel. The Plug and Piston are made entirely of 316 SS and the seat/seals are in PTFE, enabling a high chemical compatibility with almost all media used in the different production processes.
The plug and seat are pinned on the stem allowing for slight movement, so the seat can pivot to find the ideal seal even as components wear over time. The self-aligning plug design guarantees a high duty cycle, under all kinds of pressure. The valves work well in a wide temperature range, from -14 to 358°F, making them ideal for a variety of applications.
The stem seals on the Ares angle seat valve offer a dual chevon PTFE packing live loaded with Bellville washers. "When you compare our stem sealing and bearing surface to the competition, engineers prefer this superior design", observes Mike O'Neill, Assured Automation's valve specialist. "These features have enabled our angle body valve to achieve 5 million cycles on certain applications."
The actuator control head rotates 360° for selective positioning of the pilot air inlet port, which is ideal for OEM's with tight areas in their equipment. The valve also offers a NAMUR solenoid pad to allow for a compact mounting of a pilot solenoid. The angle valve is available in sizes from 3/8" to 2".
High Performance Butterfly Valves
The Assured Automation HP Series High Performance butterfly valve disc is engineered for a quick release from the seat, which reduces torque and seat wear. Machined position stops on the body locate the disc in the seat to achieve maximum seat and seal life.
Assured Automation's HP High Performance Butterfly valves are better suited to air separator systems than alternative ball valve or resilient seated butterfly valves. Resilient seated butterfly valves that modulate constantly frequently fail from constant wear at the 6 o'clock and 12 o'clock positions. In contrast, the HP High Performance Butterfly valve's double offset shaft creates a pivot action to reduce seat wear and improve seat sealing to avoid leakage and life cycle issues. Ball valves and resilient seat butterfly valves will start to leak in 100,000 cycles, where high performance butterfly valves can reach up to 1 million cycles.
The HP High Performance valve offers Class VI shut-off and an advanced seat design which provides a bi-directional interference and pressure assisted seal. These valves are available in sizes 2" through 24" with a pressure rating up to 285 PSI for 150lb class and 740 psi for 300lb class valves. The valve body is available in carbon or stainless steel with Wafer or Lugged flanged end connections. A full range of accessory items are available including actuators, limit switches, solenoid valves, positioners and manual override devices.
Quick-Ship Program
Assured Automation stocks valves for their OEM partners as part of the Assured Automation Quick-Ship delivery program. Assured Automation's Quick-Ship program includes OEM discounts based on the OEM's typical line sizes, material of construction, and annual usage.
About Assured Automation
Assured Automation is a privately held company that sells automated valves, actuators, flow meters, and valve accessories. Located in Clark NJ, Assured Automation's customers include original equipment manufacturers, resellers, and end users. Their products are used for fluid and gas applications in air drying, pollution control, process control, laundry equipment, textile dyeing & drying, bottling & dispensing equipment, ink & paint dispensing, industrial compressors, and others. For more information contact Assured Automation at 800-899-0553, by e-mail at info(at)assuredautomation(dot)com or visit http://assuredautomation.com