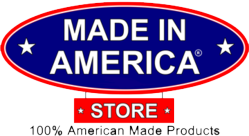 Elma, New York (PRWEB) April 13, 2012
Mark Andol, Owner of the Made In America Store, will be speaking at the Second Annual Spotlight On Business on May 1st, The Business Expo & Trade Show is a four hour event that will host over 60 local vendors and two, 30 minute open forums.
The first session of open discussion will have five different CEOs speaking on their behalf about tools and techniques business owners can use to improve their business, despite the challenging economy.
Andol hopes to spark some interest when he goes up to speak at the event. The theme of his session is tools and techniques to improve business during the economy but Andol's whole purpose and message is his own tool and technique.
The American citizen recognizes the country is in a slum financially and people are feeling the effects of the recession. Andol's message of "Buying American to help create and save jobs," isn't just a tool to help with business, but is an ideal to get the economy out of the slum it currently is in.
"We have to being back respect to our veterans, active duty and working American." says Andol.
The five CEOs speaking are; Mark Andol, Owner of the Made In America Store, Lori E. Miller, Owner of Developing Professionals, Trace George, Owner of VSP Marketing Graphics Group, Madonna Spitler, CEO of CELOX Sales and Doctor Mark Pundt, CEO of Med First Urgent Care.
The second session is a discussion is from National Federation of Independent Business & Unshackle Upstate New York. The discussion will go over topics such as state mandates, pension reform and the recent updates in Albany affecting all small business owners.
The Made In America Store is located at 900 Maple Road in Elma, New York and is committed to selling 100% American manufactured products. You can visit http://www.MadeInAmericaStore.com for more information or shop our catalog of over 290 vendors that are devoted to producing USA made products. All US military personnel both active duty and retired a discount everyday. Consumers can also keep up to date news articles, events, photos and contests with Facebook, Twitter, Google+, Pinterest and Tumblr.