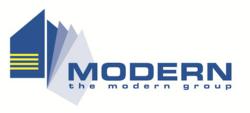 Australia (PRWEB) April 06, 2012
Australia's leading home improvement business The Modern Group has changed its name to MODERNthis.
The "this" stands for "Total Home Improvement Shop", reflecting the company's renewed focus on providing a complete range of home improvement solutions for Australian households.
The Modern Group has been in the home improvement business since the 1970s. Australian-owned and run, Modern has serviced more than 300,000 customers from all over Australia.
As MODERNthis, the company will continue to respond to customer needs by innovating and developing their products and services.
Building on a reputation for quality earned over 35 years, MODERNthis will offer solar power and solar hot water systems; roofing restoration, repair and replacement; roller shutters and a range of other home improvement products and services.
The Modern team will remain largely the same, with the addition of a few new faces.
MODERNthis will continue to support and develop sustainability initiatives, such as the "Think Greener" policy, which aims to positively impact climate change and empower Australian homes and businesses to reduce their carbon footprint.
Further, MODERNthis retains its close involvement with a network of industry associations, such as the Clean Energy Council, the Master Builders Society and the Housing Industry Association.
Customers can find out more about MODERNthis products and services by visiting http://www.moderngroup.com.au/.