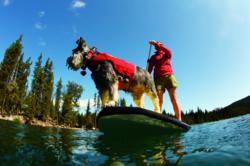 "This season we were inspired to ponder Ruffwear's path of discovery and the solutions we've created to enhance human-canine interactions," said Patrick Kruse, Ruffwear's Owner and Founder
Bend, Oregon (PRWEB) April 02, 2012
Ruffwear, the leading producer of high performance dog gear, unveils new products for spring including a redesign of the Palisades Pack™, Web Master™ Harness and K-9 Float Coat™. The new product line also features the Headwater™ Collar that is both waterproof and stink-proof.
This line of new products will be available through specialty pet and outdoor retailers as well as through http://www.ruffwear.com starting April 2012.
After more than fifteen years of building performance dog gear, Ruffwear applied lessons learned and improved some of their tried and proven designs for the launch of the spring 2012 line. "This season we were inspired to ponder Ruffwear's path of discovery and the solutions we've created to enhance human-canine interactions. The true motivation and drive at Ruffwear comes from finding a new approach to solving old problems. With new materials and construction techniques we are able to advance the cause with better fitting, better performing dog gear that allows all of us to be happy campers," said Patrick Kruse, Ruffwear's Owner and Founder.
Consumer Spending On Pet Products Continues To Show Positive Growth
The American Pet Product Association reported the number of dogs and cats owned as pets rose from 163 million in 2007 to 180 million in 2011. It is also estimated that $50.84 billion was spent on dogs and cats in the U.S in 2011. This clearly represents a new high for the industry.
New Spring/Summer Product Improvements Inspired By Loyal Customer Feedback
Web Master Harness redesign– enhanced comfort and reduced weight:
Built for maneuvering and assisting dogs up and over obstacles on the trail, the supportive, multi-use Web Master Harness is popular for activities including hiking, scrambling and rehabilitation. The new refined design contains less material overall, making the Web Master Harness lighter than the previous version, while preserving its innovative features and long-term durability. MSRP: $54.95.
Web Master Harness Key Features:

Efficient, easy-to-clip sheltered buckles keep straps firmly in place over time
Anatomical design provides controlled, comfortable and balanced lifting with good load dispersion
Customizable fit with five points of adjustment allow for full range of motion
Secure design for even the best "Houdini" dog
Foam-padded chest and belly straps for comfortable, extended wear
Two points of connection: aluminum V-ring leash attachment up front or the webbing loop at the rear
Palisades Pack redesign –Ruffwear lightened the load by 22%:
The redesigned Palisades Pack is Ruffwear's multi-day backcountry dog pack. This is our first choice for extended trips or when extra carrying capacity is needed. Built on our highly refined Web Master Harness chassis, the Palisades Pack offers several key features providing conveniences often found in high-end human packs. MSRP: $129.95
Palisades Pack Key Features:

Expansive capacity saddlebags are removable for easy initial harness fitting, at rest stops and for water crossings
Two 1.0 liter collapsible hydration bottles included
Load compression system secures the load for a comfortable, compact carry
Five points of adjustment with the slip-free straps of the Web Master Harness frame
Thoughtful design elements like easy-access stash pockets, coated zippers, high-visibility reflective trim, external gear loops, and aluminum V-ring leash attachment
K-9 Float Coat redesign – canine life jackets are must-have gear for water enthusiasts:
Ruffwear knows that dogs make any outdoor experience better - water-based adventures included! When your four-legged friend is geared up in their K-9 Float Coat, you can focus on the fun when fast-moving water or long distances from shore come into play. A canine life jacket gives dogs of all breeds and their humans' confidence and peace-of-mind in and around the water. Ruffwear redesigned their performance canine life jacket to ensure enhanced safety for dogs. MSRP: $79.95.
K-9 Float Coat Key Features:

Natural swimming position made possible by strategically-placed closed cell panels
Strong, low profile handle is optimally positioned to help dogs out of the water
Sheltered buckles are protected from wear and stay in place for easy, one-handed clipping
Built for a lifetime of water adventures with time-proven, abrasion-resistant materials
3M™ Scotchlite™ reflective trim for visibility in low light in or out of the water
Headwater™ Collar – a stink-proof collar for the rainy months and water activities!
The latest dog collar from Ruffwear is both waterproof AND stink-proof. The Headwater Collar is designed for dogs that live to swim, play water fetch, and reside in rainy climates. MSRP: $29.95.
Headwater Collar Key Features:

Waterproof, coated 1-inch webbing keeps collar stink proof and looking new
Proven reliable 4-point stitching method is trusted on parachute bridles and tie-down straps
Highly visible reflective pattern available in four colors
Pack selection and packing tips:
Packing and planning for a multi-day backpacking trip that is also easy on the paws can challenge us to consider exactly what we choose to pack in and pack out. Here are a few tricks to help with planning for your next expedition:
What size pack should I order for my dog? Ruffwear packs are designed to fit based on your canine's girth measurement. We find that all dogs are unique and finding the right sized pack for your canine companion is important.
Size down to ensure a snug fit. If your pup is in-between sizes, sizing down is recommended. If the pack is too large, it can cause shifting and a less-than-ideal fit.
Adjust the pack to fit comfortably over the shoulders. Our Ruffwear packs are designed to position the majority of the weight forward, rather than in the middle of their back. This allows the strong parts of your canine's frame to support the weight inside. You can adjust the front martingale on all of our packs to find the best fit for your canine's shape.
How much weight should I load into my dog's pack? The total weight of your canine's pack should not exceed 25% of their body weight.

Be sure to load both sides of your canine's pack equally. Keeping the saddlebag load balanced will minimize on-trail adjustments and provide a more stable load for your dog to carry.
If you are using our Ruffwear Palisades Pack™, use the built in compression straps. Along with the general weight of the pack, these straps will compress the gear inside leaving more room for weaving through the trees and over rocks.
About Ruffwear
Ruffwear's mission is to build performance product to enhance and inspire outdoor adventures for dogs and their human companions. Ruffwear Performance Dog Gear™ combines technology, quality, fit, function, and safety to meet the needs of active and adventurous canines and their humans.
Ruffwear is committed to preserving open lands and waterways, providing important habitat for wildlife and recreational opportunities for humans and canines. Through partnerships with The Conservation Alliance and regional grass roots organizations, Ruffwear is able to give back and create opportunities to strengthen the bond between humans and their dogs.
Ruffwear was named to Outside magazine's (http://www.outsideonline.com/) third annual "Best Places to Work" list in April 2010.
Based in Bend, Oregon, Ruffwear sells their products through specialty pet and outdoor retailers as well as http://www.ruffwear.com. Find Ruffwear on Facebook, http://www.facebook.com/ruffwear and on their Dog Blog, http://dogblog.ruffwear.net, and on Twitter, http://twitter.com/ruffwear.