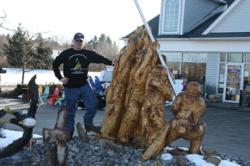 I was tired of seeing chainsaw artists always sculpting bears with their chainsaws, so I wanted to create something different
Elma, NY (PRWEB) April 16, 2012
The Made In America Store, known for selling 100% American made products, is kicking off their two year anniversary with an all day event. The event will have live performances, food vendors, a charity bike run and a book signing, just to name a few. For two years the Made In America Store has opened its doors to customers who share the same values as Mark Andol, owner of the Made In America Store. One demonstration at the Made In America Store that always draws a crowd is Matt Hannah's live chainsaw sculpting.
Matt Hannah is a former US Marine who came home to an economy that was less than stable. Andol offered Hannah the job of performing live chainsaw demonstration after seeing some of his artwork Hannah had created.
"I was tired of seeing chainsaw artists always sculpting bears with their chainsaws, so I wanted to create something different," says Hannah, whose been sculpting for the Made In America Store for two years.
People can see some of Matt Hannah's artwork and sculptures by visiting Made In America Store's Facebook photo album devoted to Matt Hannah's work.
The two year anniversary will offer things to do for every age. With chicken dinners and hot dogs offered to consumer from Dale's Rollin' BBQ. Live Performances will be played by Nashville Recording Artist, Ricky Lee and local band, Turbulence. A live book signing will be taking place from Robin Tolsma. The author is doing her first official book signing of "Everything Changed," a novel about how her husband died on Flight 3407 and how she is trying to change some legislation. On site there will be live Alpacas and Matt Hannah's live demonstrations. The Food Bank Run & Benefit Party will be started at the Made In America Store. All proceeds from the bike run benefit will go to the Food Bank of Western New York. Registration for the bike run starts at 10am and goes until 1:30pm.
The Made In America Store is located at 900 Maple Road in Elma, New York and is committed to selling 100% American manufactured products. You can visit http://www.MadeInAmericaStore.com for more information or shop our catalog of over 290 vendors that are devoted to producing USA made products. All US military personnel both active duty and retired receive a discount every day. Consumers can also keep up to date news articles, events, photos and contests with Facebook, Twitter, Google+, Pinterest and Tumblr!