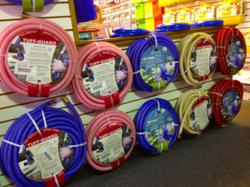 Elma, New York (PRWEB) April 17, 2012
The Made In America Store offer its customers 100% American made products, right down to the packaging, including Tuff Guard's Hoses. JGB Enterprises manufactures a kink free hose backed by a lifetime warranty
Tuff Guard, "The perfect garden hose," has advanced the consumer product market with a professional grade hose. When normal hoses get a knot in them, it ceases the flow of water through them but with a Tuff Guard hose, water will flow, even if there is multiple knots in them. Tuff Guard Hoses also are more efficient in terms of weight. A 25' hose from Tuff Guard only weighs about three pounds where a standard 25' hose will weigh in about 5 pounds, making the Tuff Guard Hose about 35% lighter than conventional hoses.
Tuff Guard Hoses offer an innovated technology to their hoses by adding a solid helix component on the outside of their hoses, both protecting the hose and giving the hose a rigid structure.
Consumers can shop for Tuff Guard Hoses at the Made In America Store or visit http://www.MadeInAmericaStore.com to purchase and see the new colors offered.
JGB Enterprises, Inc. was created in 1977 as a supplier of industrial hydraulic and garden hose and hose accessories. Customers of JGB Enterprises range from paper manufacturers, steel mills and chemical companies. JGB Enterprises also have grown to service a variety of customers nationwide including defense industries, construction, dairy, petroleum, marine and automotive.
JGB Enterprises also services the needs of the United States Armed Forces and NATO, supplying each military branch with all types of OEM parts, accessories and components used in aerospace, ground support and shipboard applications.
The Made In America Store is located at 900 Maple Road in Elma, New York and is committed to selling 100% American manufactured products. You can visit http://www.MadeInAmericaStore.com for more information or shop our catalog of over 290 vendors that are devoted to producing USA made products. All US military personnel both active duty and retired receive a discount every day. Consumers can also keep up to date news articles, events, photos and contests with Facebook, Twitter, Google+, Pinterest and Tumblr!